Qatari women's basketball team quits Asian Games over hijab row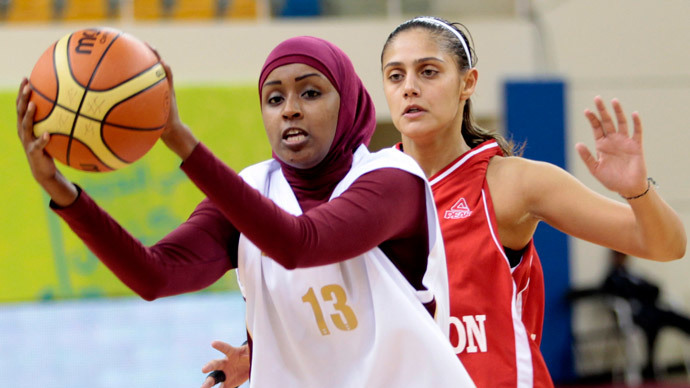 Qatar's women have withdrawn from the Asian Games basketball competition after the team was denied permission to wear Islamic headscarves. The players said the move was discouraging Muslim women who want to play in hijab.
The Qatari women were due to play Mongolia on Wednesday in Incheon, South Korea, when they were asked to removed their hijabs. The team refused, saying that removing their headscarves violates their religious beliefs.
The organizers said they had no alternative other than to declare a forfeit, because "the rule that the players broke is International Basketball Federation rule 4.4.2, which talks about uniforms and what players can wear."
On Thursday, the Qatari women basketball team refused to play their match with Nepal, staying away from the venue.
Technical delegate Heros Avanesian said that the organizers "had no option but to wait for them, before awarding the match to the other team."
According to Qatari chef-de-mission Khalil al-Jabir, the team had been left with no choice.
"We're not forfeiting games — we're not being allowed to play," al-Jabir said in a telephone interview in the hours leading up to the Nepal game. "On the one hand, everyone wants more women to participate in these games and, on the other hand, they're discouraging Muslim women who want to play in hijab."
Article 4.2.2 of the International Basketball Federation rules says that players cannot wear "headgear, hair accessories and jewelry".
"FIBA didn't let our players play with the headscarves and so we had to withdraw from the tournament," said Ahlam Al Mana, head of Qatar's women's sports committee.
"What happened [Wednesday] is against International Olympic Committee goals which are meant to include countries from different cultures, and also it's against the slogan of the Asian Games in Incheon which is 'Diversity Shines here.'"
FIBA didn't immediately comment on the issue. However, Olympic Council of Asia (OCA) director general Husain Al-Musallam said that "athletes' rights must be the highest priority."
"Every athlete has the right to represent their country's flag without discrimination or without the threat of a financial penalty," he added.
Other sports at the Asian Games allow the wearing of headscarves. But basketball remains one of the exceptions, though the International Basketball Federation (FIBA) said earlier in September that the organization was discussing the question of players wearing headscarves during matches. The body even said that it was introducing a two-year "testing phase" on what players can wear.