Iconic carmaker Fiat leaves Italy after 115 years, as Chrysler merger finalized
Published time: 1 Aug, 2014 14:55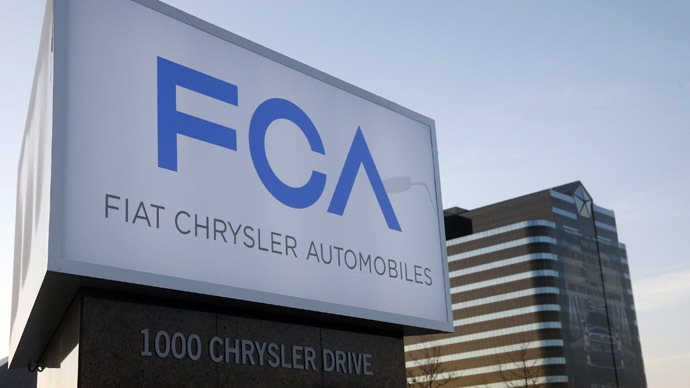 No more 'Fiat' or 'Chrysler' but only 'Fiat Chrysler' after Fiat shareholders approved the Italian carmakers merger with Chrysler on Friday. Survival is the main goal for the world's 7th largest auto group, which has its eyes on a US stock listing.
Eighty percent of Fiat's board approved the decision to merge the Italian carmaker with its US unit Chrysler at a shareholder meeting Friday.
"For the first time we have a different perspective: we don't need to play a game of survival," said the carmaker's chairman, John Elkann, grandson of Gianni Agnelli, the Italian entrepreneur who founded the car company in 1899.
Now the company will be incorporated in the Netherlands.
#Fiat shareholders vote in favor of @Chrysler merger http://t.co/iCi4XEc84apic.twitter.com/Mcz3if3jhs

— The Detroit News (@detroitnews) August 1, 2014
Italy's iconic car company, the country's largest overall manufacturer, will pick up and move to the UK, leaving its Turin home after 115 years.
"The merger that we present today is an epochal leap because after 115 years it marks the end of a long historical cycle. There are emotional aspects related to the operation, [we] had to change the name and registered office but the project from which Fiat Chrysler Automobiles is born and opens a new future for our company, even from the corporate point of view, international stature, as well as concrete and solid growth prospects," Elkann said.
Fiat hopes the merger will bump up sales to 7 million cars per year and hopes to boost increased profit five-fold and sales by 60 percent by the year 2018. The plan will cost $74 billion (55 billion euro) and the Asian market will be at the core of the business plan.
At its Italian home, Fiat is in the midst of implementing mass layoffs at its factories, since Italy and European operations have been at the core of the company's losses, while the American division props up profit.
In January, Fiat announced the creation of Fiat Chrysler Automobiles, or FCA, keeping its original brand at the front of the new company's name.
Fiat first took the reigns over Chrysler in 2009 with the help of the US government, after the Michigan-based carmaker went bankrupt.
Italy's economy hasn't grown in the last 14 years, the country is experiencing its longest recession since World War II and unemployment is at its highest level since the 1970s. Over 12 percent of adults are unemployed, and youth unemployment is one of the highest amongst EU member states – climbing to 43.7 percent in June.