FIFA authorizes wearing of veils and turbans during matches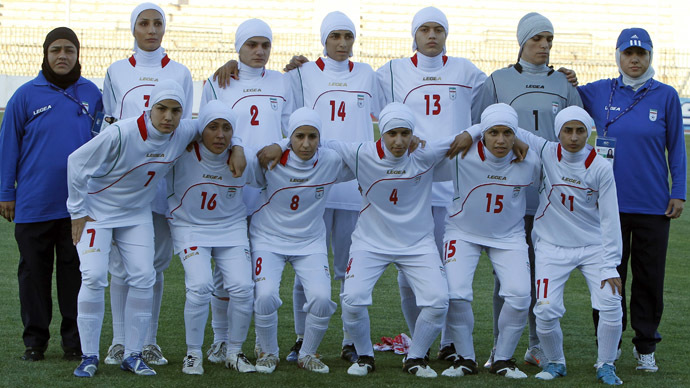 FIFA, football's world governing body, authorized Saturday the wearing of head covers for religious purposes during matches after a two-year testing period proved they do not pose a significant risk of injury.
The decision by FIFA will allow female players to wear the veil during games and will be extended to male players after a request from the Sikh community of Canada. Although what men will be allowed to wear will not be the same as what they wear off the pitch.
"It was decided that female players can cover their heads to play," said Jerome Valcke, FIFA secretary general at a meeting of the International Football Association Board (IFAB), in Zurich, Switzerland.
"It was decided that male players can play with a head cover too. It will be a basic head cover and the color should be the same as the team jersey," he added.
Initially FIFA had banned the wearing of head covers, but IFAB then allowed a two-year trial period starting in 2012 after a request from the Asian Football Confederation (AFC), which proved successful.
The trial period was a result of a decision in June 2012 by IFAB to overturn the 2007 ban, based on reports from FIFA's medical officer.
There had been concerns that the hijab, the name for the Islamic headscarf, would increase the risk of head and neck injuries.
"It's a worldwide authorization. It was a plus for them to have authorization from IFAB for women to be able to play (wearing head covers). It was a request from these (Muslim) countries that said it would help support women's football there," Valcke said.
Valcke confirmed that the hosting of the 2016 women's under-17 final World Cup by the Arab Kingdom of Jordan had played a role in the decision.
Iran was at the forefront of the campaign to lift the ban. Tehran had complained to FIFA after its female team was banned from playing against Jordan in a qualifier for the London Olympics in June 2011.
The wearing of the Islamic veil in daily life was historically limited to conservative Gulf monarchies such as Saudi Arabia, but has gained momentum in recent years, including in sports, as a result of the Iranian Revolution in 1979 and the growth of Islamic movements since the 2011 Arab Spring.
You can share this story on social media: