Massive clashes as Brazilians protest over World Cup spending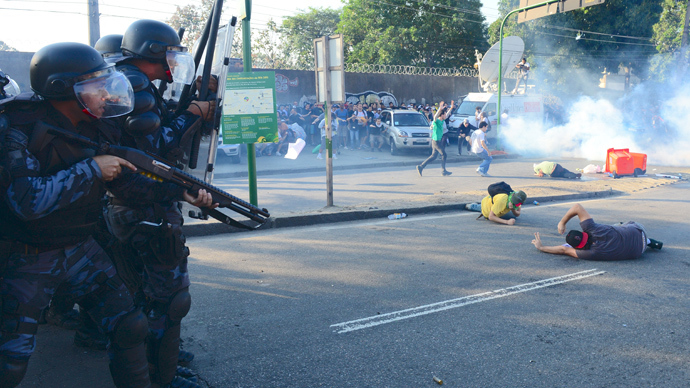 Thirty-nine people were injured and 30 others detained in clashes as around a thousand Brazilians demonstrated outside the national stadium in the capital, Brasilia. The crowds voiced their anger against the amount of money spent on next year's World Cup.
Police used tear gas, pepper spray and reportedly rubber bullets, as demonstrators staged their rally before the game, which ended in Brazil beating Japan 3-0.

Protesters held posters reading "We don't need the World Cup" and "We need money for hospitals and education."

The demonstrators also chanted slogans such as "FIFA go away!" referring to the Federation of International Football Associations, which awarded the hosting rights to Brazil.

Protests took place across Brazil, with hundreds holding a rally near Maracana Stadium in the country's second largest city, Rio de Janeiro.

The rally turned violent, as it did in Brasilia, with police firing tear gas and rubber bullets before the start of another Confederations Cup match, which ended in a tie between Italy and Mexico.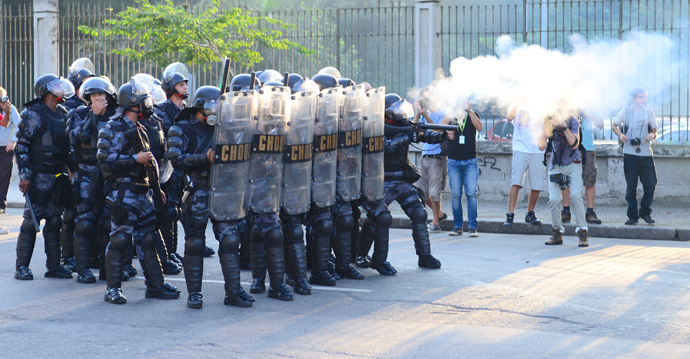 Demonstrators voiced their anger over the transport fare hikes, as well as the amount of money spent on the 2014 World Cup.

Protesters all across Brazil also posted messages on social media urging visitors from abroad not to come for the World Cup.

On Facebook, the message reads, "Our governors have wasted billions building stadiums that should cost half [what they have] and won't bring any improvement for the quality of life of the population. Meanwhile, people are dying in the hospital lines due to lack of infrastructure."

The message ends with the following, "Brazilians are sick of it. This World Cup is gonna be messy, tourist-deceiving and dangerous, not to mention disrespectful to our people."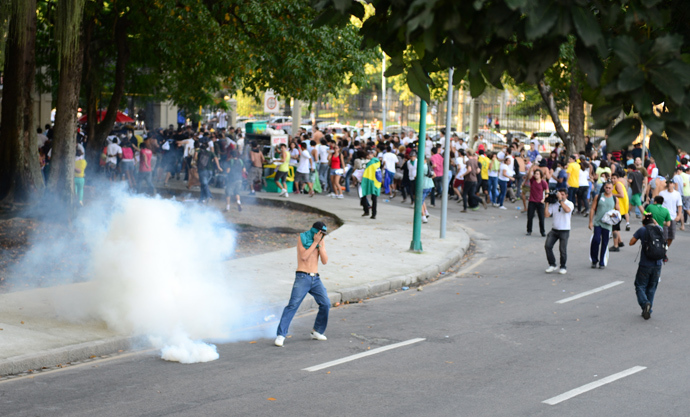 Initially, in 2007, the government stressed the money spent on the organization of the World Cup would be private money, but eventually, over 90 percent of the money being spent on football stadiums has ended up being public money, local media reported.

The Confederations Cup is considered a rehearsal for the next year's World Cup, with the stadium in Brasilia one of the most expensive in the country, at an estimated cost of around $600 million.
Brazil has been swept with protest rallies recently, with thousands taking to the streets, speaking out against a transport fare increase, crime rates and inflation.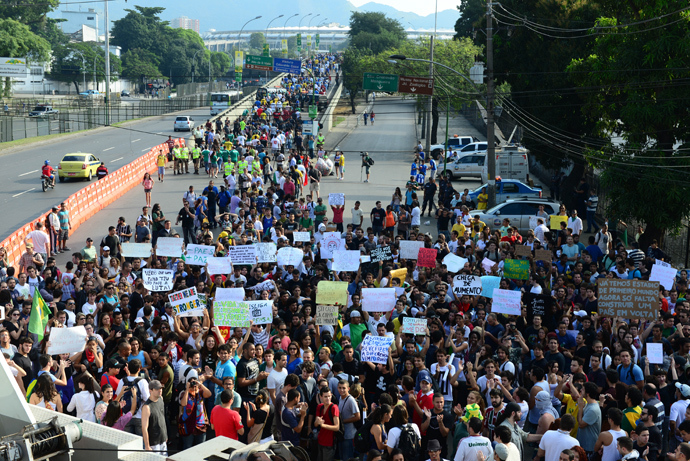 You can share this story on social media: