Too hot: Top FIFA official says 2022 Qatar World Cup will move due to heat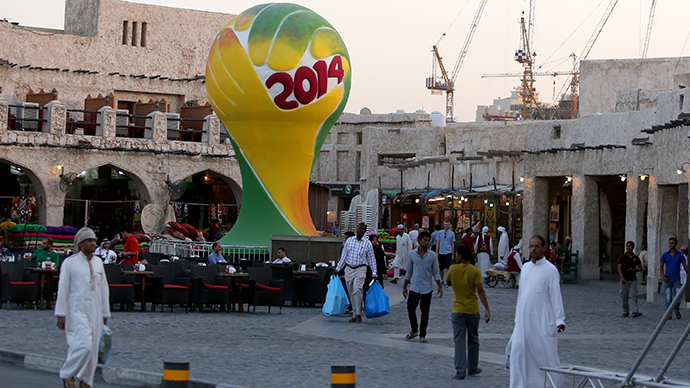 A top FIFA official says the 2022 World Cup won't be held in Qatar because of dangers faced by players and fans in scorching temperatures. The Gulf State, which has faced repeated allegations of corruption, says they want to move the event to winter.
The claims were made by Theo Zwanziger, who is a FIFA Executive Committee member. He is adamant that the present plan to stage world football's biggest event in the summer is not a viable option.
"I personally think that in the end the 2022 World Cup will not take place in Qatar," the German told Sport Bild on Monday.
"Medics say that they cannot accept responsibility with a World Cup taking place under these conditions," the former head of the German football association added.
Qatar has repeatedly said that the problem of playing in summer, where temperatures can reach in excess of 50 degrees Celsius, can be overcome by introducing cooling technologies inside the stadiums.
"They may be able to cool the stadiums but a World Cup does not take place only there," Zwanziger said.
"Fans from around the world will be coming and traveling in this heat and the first life-threatening case will trigger an investigation by a state prosecutor. That is not something that FIFA Exco members want to answer for."
In May, FIFA President Sepp Blatter said it was a "mistake" to choose Qatar to host the 2022 World Cup.
"Yes, it was a mistake of course, but one makes lots of mistakes in life," said Blatter, Fifa's president, in an interview with the Swiss broadcaster RTS. "The technical report into Qatar said clearly it was too hot but the executive committee – with a large majority – decided all the same to play it in Qatar."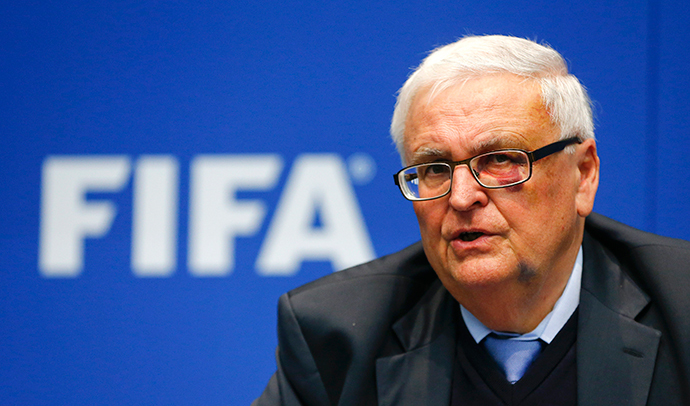 The FIFA supremo, who has been in charge of world football's governing body since 1998 and is seeking a fifth term in charge of the organization says it was now "probable" that it would be played in the winter rather than the summer due to the heat.
However, this plan has received a lukewarm response from the top European leagues, who are worried the move would hurt them financially; it would clash with domestic seasons around the continent.
"We need more information before accepting the fact that the calendar should be disrupted," said European Clubs Association vice chairman Umberto Gandini. "We would not be part of something which is not credible."
FIFA has offered two options: a November-December tournament, which would shut down top European leagues for two months. The other was January-February, though Blatter previously assured IOC President Thomas Bach that the World Cup will not clash with the 2022 Winter Olympics, likely in February.
"There's obviously some resistance to move to break away from tradition — that's normal, that's natural but a lot of people believe this is the World Cup and belongs to the world," Qatar organizing committee communications director Nasser Al-Khater said. "This could be the first time a World Cup is moved in terms of timings and maybe this becomes the norm for the future and becomes a template that we can move."
Corruption rampant
In June, the British newspaper The Sunday Times published new allegations that disgraced former FIFA executive committee member, Mohamed Bin Hammam, used his wealth and contacts to buy support for Qatar's bid to host the World Cup, which they were awarded in Zurich in December 2010.
The paper claimed that Bin Hammam made payments totaling $5 million to senior football officials to seal support for Qatar. The Qatari was also accused of using $1.7million to secure key Asian votes.
This led to UEFA president, Michel Platini, to say that FIFA should hold a new vote if the allegations of corruption against the Gulf state were proved to be correct. Platini had originally voted for Qatar to be given the right to host the tournament.
Aside from the numerous corruption scandals, the oil rich nation has also been accused of treating thousands of migrant laborers, who are building the necessary infrastructure, like slaves.
A report by AFP in February stated that at least 237 Indian migrants lost their lives in Qatar in 2012 and another 218 in 2013 up to December 5, citing figures received via a Right to Information request filed at the Indian embassy in Qatar.
On average, 20 Indian migrants die every month in Qatar. August last year was the most deadly month on record, with 27 fatalities being reported.
Slave-like conditions
Meanwhile, 400 Nepalese workers have died at building sites since construction for the World Cup 2022 got underway in 2010, the Guardian reported. The newspaper did not state when the deaths occurred, but they were backed up by the Pravasi Nepali Co-ordination Committee, a respected human rights organization, which used official sources from Doha.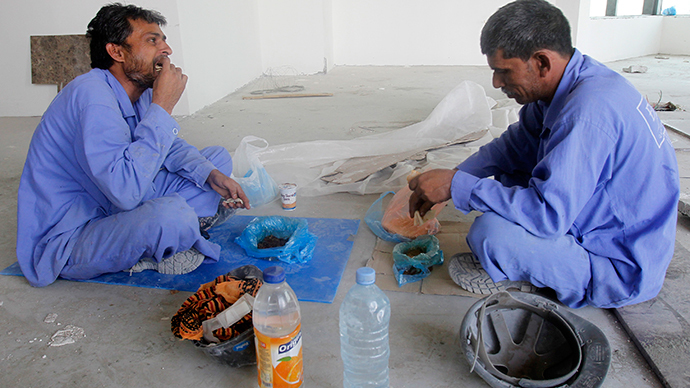 There were 500,000 Indians estimated to be in Qatar at the end of 2012 – roughly 26 percent of Qatar's population. Nepalese workers comprise approximately 20 percent of Qatar's migrant workforce and 16 percent of the total population. The total death toll stemming from the country's World Cup scramble could in fact be higher, as other migrant groups are also present in the country.
Qatar uses the Kafala system to govern its domestic migrant workers. The system requires that foreign workers be sponsored by an employer who is responsible for their visa and legal status. Human Rights groups have found evidence that the Kafala system is being manipulated, with employers denying migrants' wages and refusing to grant them an exit visa to leave the country.
"Professional and poor workers alike tell the same stories; they came to Qatar with optimism and good will, only to face despair when their employer decides they are disposable and refuses to pay wages, sacked them without benefits and or refused to sign their exit permit," said Sharan Burrow, General Secretary of the International Trade Union Confederation (ITUC).
Qatar's government seems as though it is finally addressing the problems and has now banned midday outdoor work in the summer heat, specifically between 11:30 am and 3:00 pm, from mid-June until the end of August, the hottest months.
The new measures also require companies to set up bank accounts for foreign workers and pay wages electronically within seven days of the due date, or otherwise face sanctions. However, the government did not specify what the penalty would be.
Qatar lawmakers have also agreed to launch an electronic complaint system and to build housing to accommodate up to 150,000 workers, Reuters reports.
You can share this story on social media: