Russia fires Iskander-M missiles during large-scale drill in Far East (VIDEO)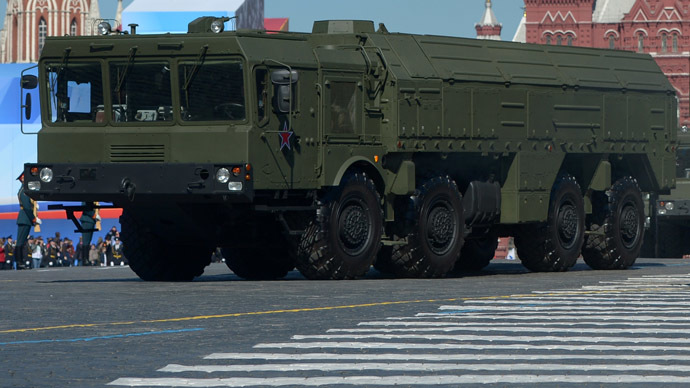 Russia has successfully fired Iskander-M missiles during Vostok-2014 maneuvers in the Far East. It was the first launch of its kind for the Eastern Military District.
Early on Saturday, the Iskander-M missile brigade was ordered to move to the firing pad in the remote woodlands of the Jewish Autonomous Region. The missile strike eliminated all training targets.

The aim of the exercise is to check the coordination between staff and commanders of different combat arms, as well as improve the command and control of troops while performing advanced tasks.
"Iskander is...one of our strongest weapons; the guarantor of our security," Major General Mikhail Matvievsky, chief of Strategic Missile Forces and the Artillery of the Russian Ground Forces, remarked following the test.

The Iskander (also referred to as NATO's reporting name SS-26 Stone) is characterized by high mobility and maneuverability, as it takes just 20 minutes to place the system in operational readiness.

The system is capable of hitting targets at a distance of up to 400 kilometers, with a precision of around 30 centimeters. It can hit adversary troops or underground command centers, depending on the warheads placed on the rockets. If necessary, its missiles can also be armed with nuclear warheads.

The advanced missile system has been used by the Russian military since 2006.

The strategic command and staff exercise, code-named Vostok-2014, kicked off in the Eastern Military District on Friday and will continue until September 25.

"About 100,000 servicemen, up to 1,500 tanks, 120 aircraft, 5,000 pieces of weaponry, military and special hardware, and 70 ships will take part in the exercises," the Russian Defense ministry said.

Tactical and cruise land, sea, and air-launched missiles will be fired during the drill, which is taking place at more than 20 training ranges from Anadyr in the north to Vladivostock in the south.

Russian troops will train to defend the coastal area and the islands in Sakhalin, Kamchatka, Chukotka, and the southern part of Primorsky Kray.
You can share this story on social media: