Dashcam clips, level – military: Russian pilots, tankmen film V-Day 1st person (VIDEO)
It is official: footage from Russian military parades can be as thrilling as a first-person video game. Amid the Russian "dashcam" video craze, what can possibly be cooler than a view shot out of the cabin of a battle helicopter, a fighter jet, or a tank?
Russian dashboard camera videos that show tanks crossing the road at full speed or fighter jets buzzing drivers have become ubiquitous on YouTube.
However, the Russian military are bringing the trend to a whole new level, filming footage from the *inside* of tanks and the jets as thousands of onlookers are watching the Victory Day parade from a distance.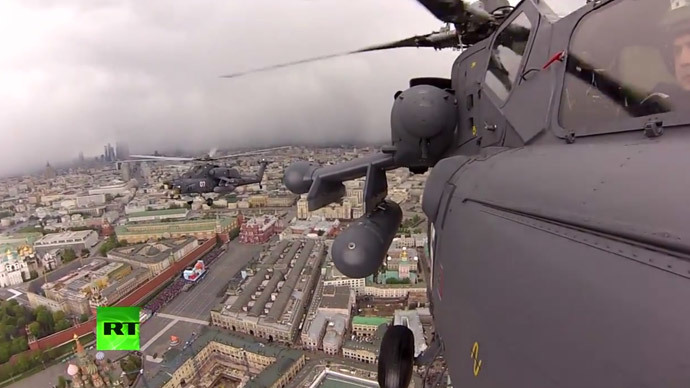 Flying over Moscow's Red Square, a squad of "Night Hunters" (Mi-28N attack helicopters) offered those watching the parade online a view one rarely gets to see. Clearly visible on the footage are the Kremlin and its churches, including the iconic St. Basil's cathedral – all in bird's eye view.
Meanwhile on the ground, cameras installed on tanks, howitzers and Iskander-M missile systems were filming the parade from different angles of view. "Dashcams" showed what tank officers see, but also gave a sneak view inside Iskander-M's cabin and revealed what one might observe from a tank.
In the Crimean city of Sevastopol, this year's parade competed with the main one in Moscow, as more than 1,000 troops, 70 aircraft and 10 warships were participating, while the parade on Red Square featured 149 military vehicles and 69 warplanes.
World-famous aerobatic teams Russian Knights and Strizhi ("Swifts") arrived to Sevastopol for a spectacular joint air show flying SU-27s and MiG-29s. Breath-taking footage of the show was being broadcasted directly from a cabin of one of the fighter jets flying in close formation.
You can share this story on social media: