Live tactical missile firing touted by Russia's Western Command
Published time: 2 Jun, 2014 14:13
Edited time: 2 Jun, 2014 16:50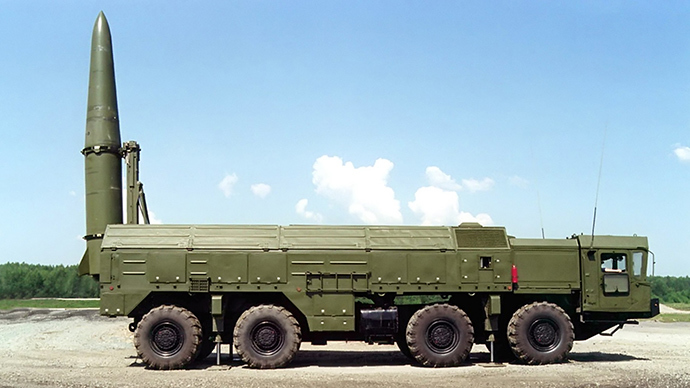 Russia's most advanced missile complexes for precision firing exercises have been announced by the country's Western Command. Training includes locking on top-priority targets, with air-based and ballistic ground-based missile complexes.
The Russian Air Force's strategic long-range aviation is engaging surface targets with cruise missiles, while training is being undertaken on deployment at Iskander-M nuclear-capable mobile theater ballistic missile complexes. The drills focus on the elimination of hard-to-destroy targets with a high-impact precision weaponry.
The war games started on May 27 and will last till June 5.
"In the course of the maneuvers, we carry out integrated damage attacks on the critically important installations of a hypothetical aggressor's infrastructure, using high-precision ground-and-air-based weapons," reported the press-service of Russia's Defense Ministry.
Iskander-M (NATO reporting name SS-26 Stone), a quasi-ballistic missile complex with an officially declared range of 400 kilometers, is currently limited by the Intermediate-Range Nuclear Forces Treaty (INF) agreement signed between the United States and the Soviet Union back in 1987. The INF treaty prohibited development and deployment of all medium-range ballistic and cruise missiles, and eliminated already existing ones with a range of between 500 and 5,500 kilometers.
In case the INF is terminated, the range of an Iskander complex could easily be extended to a greater, yet unspecified range.
Iskander-M has a wide range of warheads, from conventional and powerful thermobaric, cluster and bunker buster warheads, to tactical nuclear warhead.
Russian authorities have repeatedly warned NATO leadership that in case of further deployment of US anti-ballistic missile complexes in Europe, Moscow reserves the right to deploy Iskander-M missile complexes in the Kaliningrad region, Russia's enclave in Europe. In this case, all of Poland, where the US plans to station its ABM bases, will be covered for a potential launch-through-attack strike.
The threat of having modern missile complexes on its borders, which practically cannot be intercepted, sparked hot opposition from the Baltic States and Poland, which called on Washington to increase US military presence in the region.
In December 2013, Russia's President Vladimir Putin stated that so far the decision about deployment of Iskander-M missiles to Kaliningrad had not yet been taken, whereas Foreign Minister Sergey Lavrov maintained the matter of deployment is fully in the hands of the Russian military, saying that "when there's a need – the military will make the decision."
The press-service of the Russian Defense Ministry stressed that deployment of Iskander complexes is not limited with any international agreements.
Defense Minister Sergey Shoigu finalized the discussion, saying that "on the territory of the Russian Federation we deploy whatever we want, wherever we want."
The current maneuvers, as the previous ones, are being conducted against the background of the new Ukrainian authorities' military operation against the the primarily Russian-populated rebellious eastern regions of Ukraine, which are demanding federalization of the country.