'Don't provoke anyone': Putin says Iskander missiles not yet deployed near NATO borders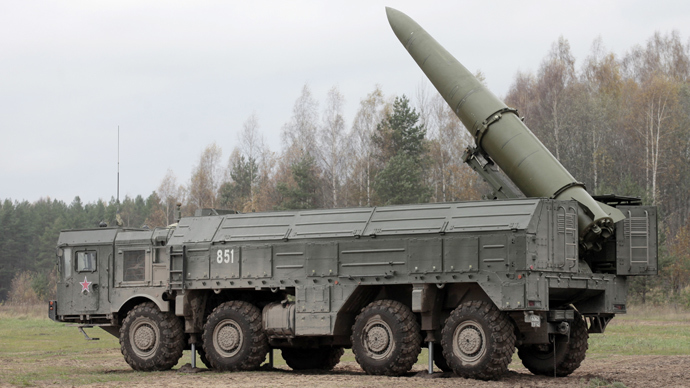 Russia is still mulling whether to deploy Iskander missiles close to NATO borders, Vladimir Putin told reporters. If the US missile shield deployment in Europe continues, Russia has more than Iskander missiles to respond to this threat, he said.
By this statement, at his annual Q&A session with journalists in Moscow on Thursday, the Russian president scotched speculation in the Western media that the Iskander tactical ballistic missile systems (NATO designation - SS-26 Stone) had already been deployed to Russia's Kaliningrad exclave in Europe.
"We haven't made up our minds on that," Putin said. "Please calm down."
He said that Moscow regards the deployment of the US strategic missile shield to the European periphery as a threat to Russia's nuclear potential.
"One way or another, we will have to react to that," Putin said, recalling that his predecessor, President Dmitry Medvedev, once said that one of the possible reactions to the US ABM systems in Europe could be deployment of Iskander tactical missile complexes to the Kaliningrad exclave. "There's nothing new in it," he said.
Vladimir Putin wondered why there is such a nervous reaction of the European media and politicians to the news about Iskander missiles, whereas the US is stockpiling in Europe at least 200 tactical nuclear warheads "not under any control of the Europeans."
After Russia's Defense Ministry confirmed that country's Western Military Command said it does have Iskander systems deployed in the European part of Russia, Washington ostentatiously declared it would "protect" its European partners.
"Secondly, there's no need to protect anyone – just do not provoke anyone and there will be no response," commented Putin.
On Monday Maj. Gen. Igor Konashenkov, head of the Defense Ministry's press service, told reporters: "Rocket and artillery units of the Western Military District are really armed with Iskander tactical missile systems."
"The concrete areas of the deployment of Iskander missile battalions in the Western Military District do not contradict any international agreements or treaties," he added, as quoted by Interfax.
Later, Russia's Defense Minister, Sergey Shoigu, pointed out that Kaliningrad region is a Russian territory and Moscow is going to deploy there whatever it finds necessary.
Answering questions at a press conference in Moscow, Vladimir Putin also noted that Iskander "is just an element of a possible response, by no means the most effective one."
"Still, in its segment, Iskander is the most effective weapon in the world," Putin said.
You can share this story on social media: