US missile defense: Loaded system, empty promises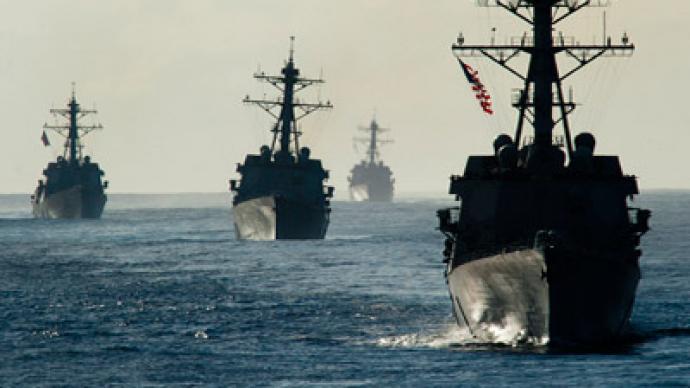 Despite the threat of another arms race erupting over a US missile defense system in Europe, Washington shows no sign of cooperating with Moscow.
­Ever since news of Washington's plans to build a missile defense system in Europe surfaced, Moscow has been receiving friendly assurances that cooperation with NATO on the project would be forthcoming.
To date, nothing of the sort has transpired.
The Obama administration is currently wrangling over the details of a data-exchange program that would give Russia more information on its "hit-to-kill" technology behind the missile defense. By providing Russia with such classified data, Moscow may be more comfortable with the system.
At the same time, analysts say the US missile defense system would be stronger with cooperation from Russia, which possesses extensive radar stations of its own. The main hurdle in Washington, however, seems to be US Republican opposition to any cooperation with Russia.
Foreign Minister Sergey Lavrov warned that failure to cooperate with Russia on missile defense would undermine the spirit of the Russia-US reset.
"There are problems in Russian-US relations, and I am talking about US plans to deploy missile defense all around the world," Lavrov told a meeting of the State Duma on Wednesday. "The US taking into account our concerns would (testify to) the reset of our relations."
If Washington has no intention of cooperating with Russia, Lavrov says, "it should provide guarantees that the system is not aimed against Russia."
Once again, Russia warned that without an acceptable agreement on missile defense, it will be forced to act appropriately.
"If our partners continue to ignore our legitimate interests (over missile defense) Russia will be forced to take measures in the security area that would be appropriate to the US' and NATO's actions," Lavrov said.
President Dmitry Medvedev warned in November that Russia will deploy short-range Iskander missiles in Kaliningrad if Russia and NATO fail to reach agreement on missile defense. The Russian leader added that Moscow may opt out of the New START arms control treaty if the US and NATO proceed with its plans irrespective of Russia's objections.
Meanwhile, political analysts remain split as to the true nature of Washington's actions. Either the Obama administration is being thwarted in cooperating with Russia due to America's harsh political climate – the fact that the US has entered a stormy presidential election season certainly does not help – or it is dangling the carrot of cooperation and data-sharing in a deliberate attempt to buy time to bolt down the system, thereby making irrelevant Russia's objections.
In any case, the reasons ultimately do not matter. Without some degree of cooperation and genuine assurances, the Kremlin will be forced to view the system as a potential threat to its national security, and act accordingly. Increasingly, and unfortunately, that seems to be the bumpy road the Russia-US reset has taken.
But as Lavrov reminded, Russia, which just overwhelmingly supported Vladimir Putin in recent presidential elections, will continue to base its foreign policy on national interests.
"The presidential elections proved the continuity of our foreign policy," Lavrov said. "We will build our policy based on our interests."
Despite the heated rhetoric and lack of trust between Moscow and Washington, the two sides show a willingness to cooperate on other fronts. Lavrov mentioned a project to create a transit station to move "non-lethal" cargo to Afghanistan, where Coalition forces are having mixed results battling the Taliban and al-Qaeda.
The transportation of non-military cargo transit to Afghanistan "is regarded by us as a means of helping those who are eradicating the terrorist and drug threat in Afghanistan," Lavrov said.
Draft plans for cargo shipments passing through the city Ulyanovsk, which is situated 893 kilometers (555 miles) east of Moscow, have not yet been submitted to the government for consideration.