'NATO hijacking UN powers' – Putin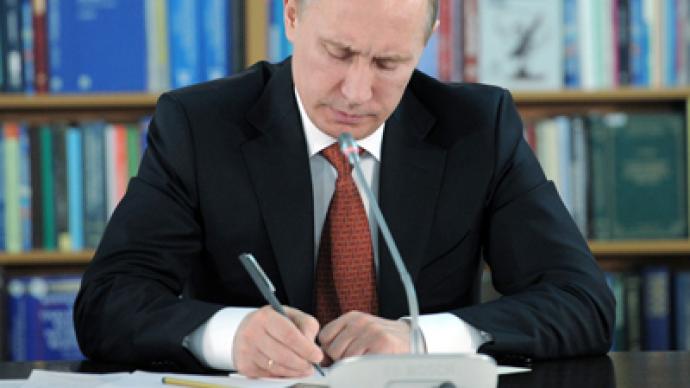 In the latest installment of his pre-election manifesto, Vladimir Putin issues a blunt assessment of US and NATO behavior, while stressing the need for Russia's active participation in the international security architecture.
With global leaders attempting a precarious balancing act along dangerous fault lines, Putin offered wisdom that has been proven correct many times in the past: "The only way to ensure global security is by doing it together with Russia, not by trying to 'demote' it, weaken it geopolitically or undermine its defensive potential."Admitting to the emergence of a "new world order" based upon the "new geopolitical reality," the leading contender in next month's presidential election quickly criticized the US and NATO for following what he called a "bloc mentality" that threatens to destabilize the global situation.Presently, US and NATO are busy building a missile defense system in Eastern Europe, just miles from the Russian border. Despite warnings that the far-reaching project could trigger another arms race unless Russia is brought on board, Washington continues to ignore Moscow's requests to be allowed to cooperate.This type of conduct, Putin warns, "definitely does not promote trust," and only serves to prevent Russia and its allies "from developing a positive agenda in international relations…in a constructive vein."
Hijacking the United Nations
The Russian prime minister went on to mention a "string of armed conflicts" occurring in the world that is undermining the principles of national sovereignty under the pretext of "humanitarian concerns."While agreeing that "crimes against humanity should be punished by an international court," Putin called it "mere demagoguery" when foreign powers express to the United Nations their concern for human rights, when in reality they are looking for "an excuse for a presumptuous violation of national sovereignty.""Nobody has the right to hijack the prerogatives and powers of the UN," Putin said. "I am referring primarily to NATO, which seeks to assume a new role that goes beyond its status of a defensive alliance."A large part of the problem, Putin believes, is that NATO countries, and especially the United States, "are obsessed with the idea of securing absolute invulnerability for themselves.""Absolute invulnerability for one nation would mean absolute vulnerability for everybody else," Putin said. "We cannot agree to this."
Arab Spring – without the thaw
Calling attention to the ongoing Arab Spring, which has attracted foreign military intervention, Putin notes that the "striving to introduce democracy by the use of power can produce… contradictory results."Putin pointed to the deteriorating situation in Syria, where various anti-government factions are attempting to overthrow the government of President Bashar al-Assad. Western leaders are focused on a one-sided approach to the situation, demanding that the pro-government forces lay down their arms, while not making similar demands on the opposition forces.Putin reminded of the West's "hysterical reaction" to Russia and China's UN veto, which prevented "the adoption of an ambiguous resolution that would have encouraged one side of this domestic conflict to resort to violence."Putin warned that a coalition of states, ignoring the outcome of the UN Security Council vote, may go ahead and "strike anyway.""The logic of such conduct is counterproductive and very dangerous," Putin said. "Even worse, it further undermines the entire system of international security as well as the authority and key role of the UN."
Addressing the world's hot spots
Unfortunately, Syria is not the only tinderbox smoking on the international stage. Putin warned about the threat of a military strike against Iran, which is suspected of developing nuclear weapons under the guise of a nuclear energy program."If [a military attack] happens, the consequences will be disastrous," Putin predicted. "It is impossible to imagine the true scope of this turn of events."The Russian prime minister said he is convinced that the issue must be settled "exclusively by peaceful means."Meanwhile, the situation in North Korea, which just saw the torch of power transfer to Kim Jong-un, the son of longtime leader, Kim Jong-il, shows no sign of abating.Reminding his readers that Russia and the communist state "share a common border," Putin said that Russia "cannot accept North Korea's nuclear status," and will continue to address the situation through diplomatic channels.In the context of nations seeking to preserve their national sovereignty, Putin suggested that increasingly frequent cases of military interference in the domestic affairs of countries may prompt authoritarian (and other) regimes to "possess nuclear weapons," otherwise, they will be vulnerable to some sort of future "humanitarian intervention."Whether we like it or not, foreign intervention in other countries' affairs suggests this train of thought, the premier warned.Putin devoted much ink to the subject of Afghanistan, where NATO has been battling Taliban forces for over 10 years with wildly varying levels of success.Since the NATO-led military contingent "has not met its objectives," Russia is increasingly threatened by "the threats of terrorism and drug-trafficking." At the same time, the protracted war in Central Asia has allowed the US to build military bases "without a clear mandate, objectives or duration of operation."Understandably, this does not suit us, he said, adding that foreign military presence "has never brought peace to Afghanistan."
The changing dynamics of relations with Europe, Asia and US
Speaking on the subject of China's dramatic rise on the global stage, Putin said this presented Russia with a "colossal" opportunity to "catch the Chinese wind in the sails of our economy."Putin believes a strong China to the south is no threat."China's conduct on the world stage gives no grounds to talk about its aspirations to dominance," he assured. "The Chinese voice in the world is indeed growing ever more confident, and we welcome that, because Beijing shares our vision of the emerging equitable world order."Mentioning organizations where the two countries have membership, including BRICS, the SCO, and the G20, Putin stressed that Russia and China "will continue to support each other in the international arena…to solve acute regional and global problems."On the question of relations with Europe, of which Russia is "an inalienable and organic part," Putin seems to have an infinite sense of optimism."Russia proposes moving towards the creation of a common economic and human space from the Atlantic to the Pacific Ocean – a community referred by Russian experts to as "the Union of Europe," which will strengthen Russia's potential and position in its economic pivot toward the "new Asia," he writes.Putin envisions the creation of "a harmonious community of economies from Lisbon to Vladivostok."While the discussion on relations with Europe predominantly focused on economics, the subject became more complex when the issue of relations with the US came up.Putin said Russia's relationship with the United States continues to "ebb and flow," largely due to "the perception…on Capitol Hill," which cannot shake "well-known stereotypes and phobias" about Russia. Interestingly, the prime minister thinks that a little economic fine-tuning could set things straight between Moscow and Washington."The main problem is that bilateral political dialogue and cooperation do not rest on a solid economic foundation," he noted. "The current level of bilateral trade falls far short of the potential of our economies."But it seems that an economic band-aid will not be enough to restore trust between the two former Cold War enemies.Putin said that "mutual understanding" between the two countries is regularly hampered by Washington's attempts at "political engineering" both in countries that are "important to us," as well as in Russia. With Russia preparing for much-anticipated presidential elections this week, Putin seems to be sending a signal that Washington should refrain from interfering in the process.Robert Bridge, RT
You can share this story on social media: