NATO's record 6,000-strong drills kick off in Estonia amid Ukraine tensions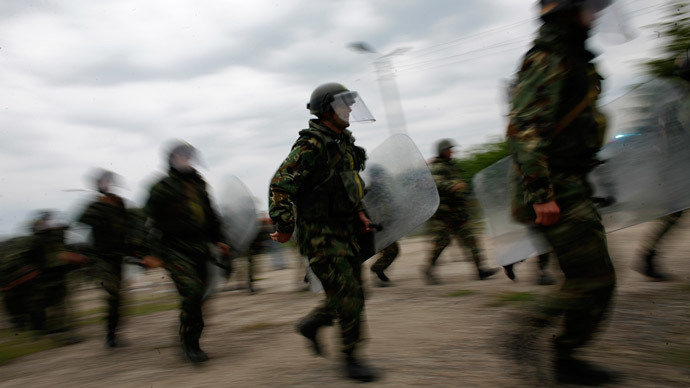 NATO's three-week 'Spring Storm' drills, involving a record-breaking number of 6,000 troops, have begun in Estonia. For the first time, a cyber security team from France is participating in the military exercises.
"This year's Spring Storm brings together a record number of allied troops – infantry from the Duke of Lancaster's Regiment, soldiers from Latvia, soldiers from the 173rd Airborne Brigade Combat Team of the US army, as well as soldiers from Lithuania," the Estonian Defense Ministry said in a statement.
In addition, Poland has sent three of its Sukhoi Su-22 attack aircraft and a division of missile defense system unit SA-8, which will be tasked with protecting an air base near Tallinn and the surrounding airspace.
Just like last year, the exercise also involves anti-aircraft personnel from Belgium.
The main goal of the military exercises is to assess the skills of the infantry battalions, rehearse cooperation between different units, and improve management methods of staff divisions, the ministry stressed.
The Spring Storm drills have been held annually in different parts of Estonia since 2003.
This year, military maneuvers will be held in 5 out of 15 Estonian counties, including southern and southeastern regions close to the border with Russia. The exercises are scheduled to finish on May 23.
Britain, France, and the US have been deploying troops to the Baltic region since April 29, a week ahead of the drills in Estonia. A day earlier, around 150 personnel of the US airborne division arrived in a military transport aircraft to Amari airbase. Upon completion of the maneuvers, the US Marines will remain in Estonia at least until the end of 2014.
Amid rising tensions in Ukraine, the UK and France deployed eight fighter jets to Lithuania and Poland to strengthen NATO air defense over the Baltic regions.
On May 2, a group of NATO ships arrived in the Lithuanian port of Klaipeda to "ensure regional security."
Russia considers the increase of NATO forces so close to its border a provocation, and believes it is counter-productive in the struggle to de-escalate tensions in Ukraine.
On Monday, Russian Minister of Defense Sergey Shoigu called on his American counterpart, Chuck Hagel, to cool down the rhetoric over Ukraine and work together to defuse the situation.
You can share this story on social media: