Don't forget the diving suit: Russian officials put own spin on #IceBucketChallenge (PHOTOS, VIDEO)
Russian officials have put their own spin on the ALS Ice Bucket Challenge. The mayor of Yakutsk, the coldest city in the world, took the challenge in freezing temperatures in an icy cave, while another top official dressed himself in a diving suit.
The mayor Yakutsk – a city in eastern Siberia which claims to be the coldest city on Earth – had two ice buckets dumped on his head by Yakutian snow maidens. While the Russian Santa's granddaughters were dressed in traditional fur coats, Aisen Nikolaev wore only a T-shirt in the permafrost cave.
For anyone used to Siberia's frigid winter climate, the temperature in the Kingdom of Permafrost – a Yakutsk tourist attraction – probably felt quite comfortable at 14 degrees Fahrenheit (-10 degrees Celsius). In January, the coldest month of the year, -40 degrees Fahrenheit is considered "warm" for the city, which is located about 280 miles south of the Arctic Circle. However, the outside temperature in Yakutsk is much more pleasant at the moment, hovering at around 50 degrees Fahrenheit (10 degrees Celsius).
Instead of supporting the original charity – the ALS (Amyothrophic Lateral Sclerosis) Research Fund – Mayor Nikolaev donated 30,000 rubles (around US$800) to the Russian 'Celebration of Life' charity fund, which provides assistance to children suffering from cancer.
Mayors of Russia's other Far Eastern cities – Magadan, Khabarovsk, and Vladivostok – were challenged by Nikolaev, who dared them to accept it "in nearly the same conditions."
Another Russian official, Central Election Commission Chief Vladimir Churov, decided to protect himself from the cold instead.
Dressed in a diving suit, Churov said the outfit was aimed at protecting him from both the cold water and the "not quite smart ideas from the West."
Чуров присоединился к флешмобу Ice Bucket Challenge, надев водолазный костюм http://t.co/s7AEdX8iaIpic.twitter.com/9OXXcfqOBV

— Народный фронт (@ornfront) September 8, 2014
"No one smart will dive into icy water without a diving suit," Churov said, adding that he dedicates his move to those who suffered from a typhoon in the Russian republic of Bashkiria.
"It is strange that not quite smart ideas are coming to us from the West recently. There are sanctions, a charity event that looks more like an advertising campaign, and some projects in the economy sector, such as shale gas production, which is harmful for environment," Churov stated.
He refused to challenge anyone else, saying it was time to "stop monkeying Western leaders."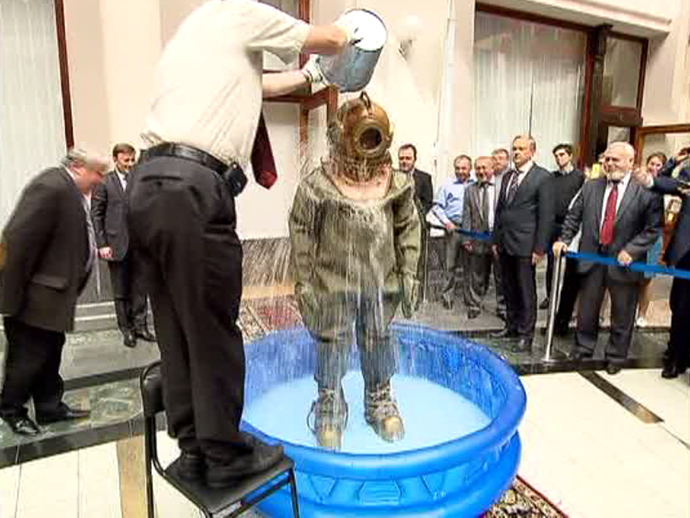 Several Russian politicians, including some opposition party leaders, have already taken part in the Ice Bucket Challenge. President Vladimir Putin was dared by several Hollywood celebrities, including actor Vin Diesel, filmmaker David Lynch, and comedian Seth Meyers. However, Putin has not accepted the challenges as of yet.
Watch Hollywood A-listers Vin Diesel and David Lynch challenge Putin
The Ice Bucket Challenge has gained worldwide attention, with both positive and negative reactions. It has sparked several global follow-ups, such as the 'Rubble Bucket Challenge,' started by a Palestinian journalist, and the 'Rice Bucket Challenge' in India.
You can share this story on social media: