New Ebola vaccine approved for human trials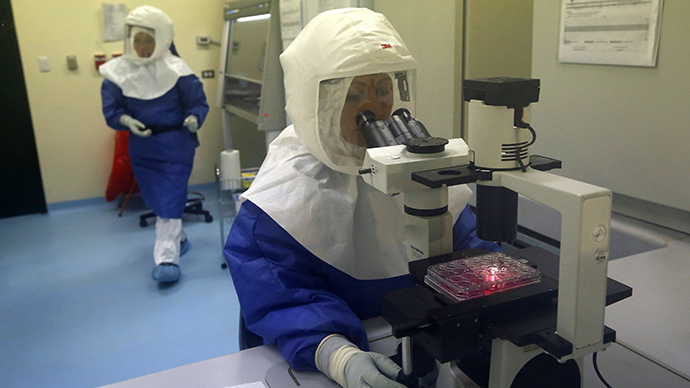 A new Ebola vaccine that provided "short-term and partial long-term protection" from the virus for lab monkeys has been approved for human trials, starting in early September.
READ MORE:Sierra Leone to enter 'lockdown' as Ebola death toll tops 2,000
Monkeys that got a booster shot following a regular vaccine shot showed "durable" immunity, the new research published in the journal Nature Medicine said.
In the end of August, after animal trials the US National Institute of Allergy and Infectious Diseases (NIAID) said that the new vaccine will be tested on humans starting with early September.
If approved, "this vaccine will be beneficial for populations at acute risk during natural outbreaks or others with a potential risk of occupational exposure," said the study's authors.
The results of the human trials are estimated to be completed by the end of 2014.
The new study said that vaccine provides "durable protection" against Zaire Ebola virus, which took the lives of 1,841 of the 3,685 people infected in Guinea, Liberia and Sierra Leone, according to World Health Organization (WHO) numbers.
The vaccine delivers traces of Ebola virus. The material is non-infectious and helps the cells build an immune response against the disease.
Four lab monkeys were given one shot of the vaccine and reported to have been immune to the virus five weeks later. But the effects of the vaccine wore off over a longer period of time. After 10 months, only two of the monkeys still had immunity.
At the same time, the monkeys that received a single shot, followed by a booster vaccine recorded long-term immunity.
The human trials will be conducted among the individuals not infected with the Ebola virus and researches will be observing if the vaccine triggers the appropriate immune response.
On Friday Sierra Leone announced it will implement a four-day "lockdown" across the country in an attempt to contain the spread of Ebola.
The move came as the World Health Organization stated that the virus has so far claimed over 2,000 lives in Africa.
You can share this story on social media: