​Geography can be tough indeed: Canada, Russia engage in tweet-for-tat war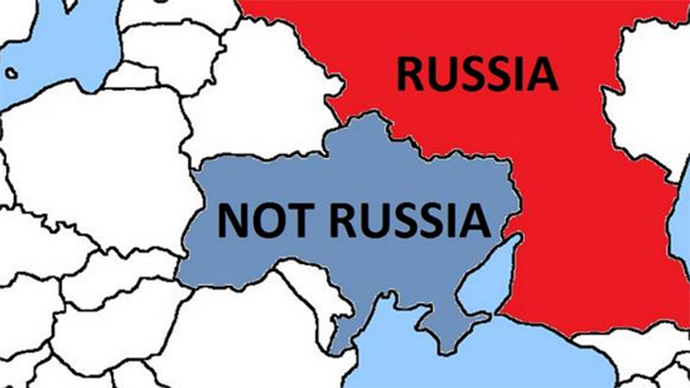 Following the panic caused in the West by Kiev's claims of a Russian invasion after several Russian soldiers patrolling the border were caught on Ukrainian side, the Canadian delegation to NATO reacted with a little geography sarcasm in its Twitter.
A "Russia – Not Russia" tweet offers a geography lesson to Moscow after Kiev's army released videos showing Russian paratroopers captured after an accidental incursion into the country, ahead of Russian-Ukrainian talks in Minsk this Tuesday.
Geography can be tough. Here's a guide for Russian soldiers who keep getting lost & 'accidentally' entering #Ukrainepic.twitter.com/RF3H4IXGSp

— Canada at NATO (@CanadaNATO) August 27, 2014
"Geography can be tough," the Canadian delegation says in the info-graphic message, mocking the alleged statement of one of the men detained, who said that they were "lost."
The Canadian version of the Ukrainian map attributed the Crimea Peninsula to the territory of Ukraine, marking the country as "Not Russia." At the same time, a Canadian "guide for Russian soldiers" has failed to highlight the Russian exclave of Kaliningrad, next to Lithuania and Poland, prompting a question as to whether Canadian delegation needs a geography lesson of its own.
This was pointed out by the Permanent Mission of Russia to NATO, who tweeted back with a lesson in "contemporary geography," marking Crimea as the territory of the Russian Federation.
Helping our Canadian colleagues to catch up with contemporary geography of #Europe@CanadaNATOpic.twitter.com/MjzRxpFFfN

— Russians at NATO (@natomission_ru) August 28, 2014
Meanwhile, Russia's envoy to the European Union said there are only nine Russian paratroopers held in Ukraine which is a bit too little to be called an invasion.
"I have just given an interview to the BBC and their first question was about the number of Russian troops on Ukrainian territory. I said that nine, they are the paratroopers who accidentally crossed into Ukraine," Vladimir Chizhov told the Rossiya 24 channel.
The OSCE mission earlier in the day, confirmed that there no Russian military spotted crossing the Ukraine border, refuting Thursday's claims that a full-scale invasion was underway in Ukraine.
On Tuesday, President Vladimir Putin said that Ukrainian troops regularly cross the Russian border both armed and unarmed, intentionally or unintentionally, and were never charged with anything and allowed to freely return to Ukraine.
The Ukrainian Security Service in the meantime is deciding on what to do with the detained paratroopers after earlier announcement that they have been charged with aiding terrorist groups.
In fact, border intrusions often happen by accident, especially when the border has no visible demarcation as between Russia and Ukraine.
In 2007, for example, some 171 Swiss soldiers penetrated a mile into Lichtenstein before realizing they were violating the sovereignty of their neighbor. "It was all so dark," one soldier claimed at the time.
In 2002, UK Royal Marines stormed a Spanish beach while conducting the drills in Gibraltar, a British territory. Before that in 1985 Swiss artillery during a drill accidentally fired an artillery round into its Lichtenstein backyard setting a protected forest on fire.
You can share this story on social media: