Over 60 Ukrainian troops cross into Russia seeking refuge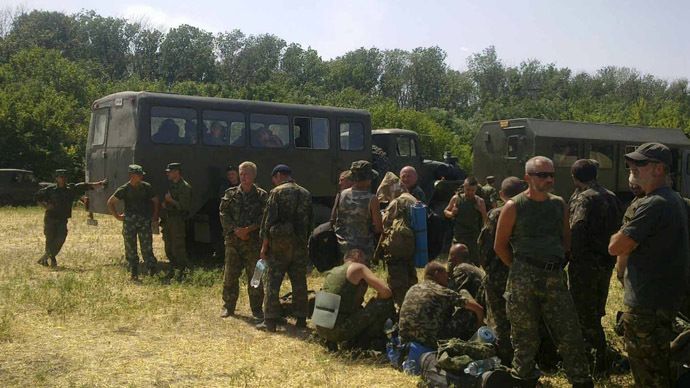 A group of 62 Ukrainian troops have crossed into Russia's Rostov Region seeking shelter to save their lives amid an intensified counteroffensive recently launched by anti-Kiev militia in southeastern Ukraine.
"Today, 62 servicemen of the Ukrainian Armed Forces turned to Russian border guards asking to let them into the Russian territory near Russia's settlement of Shramko, Matveyevo-Kurgansky district, with the aim to save their lives," the spokesman for the FSB's border guard office in the Rostov Region, Nikolay Sinitsyn, told Itar-Tass news agency on Wednesday.
They were allowed to cross and provided with a transit corridor on the principles of humanism, but only after they left their weapons on the Ukrainian side of the border, Sinitsyn added.
This case became the latest in a series of similar incidents where a total of over 500 Ukrainian troops crossed into Russia since July seeking refuge and medical help.
Earlier this week, Ukraine released videos showing alleged Russian paratroopers captured on Ukrainian territory. Russian Defense Ministry sources were saying that they probably crossed the border by mistake during a routine patrol of an area which wasn't manned. President Putin, when asked about the issue said he hoped it won't be blown out of proportion, since Ukrainian troops regularly cross into Russian territory, sometimes in armored vehicles and were never charged with anything and always allowed to return to Ukraine freely.
Kiev's renewed accusations of Russian military's alleged operations on Ukrainian territory are "nothing new," says Kremlin's spokesman Dmitry Peskov, adding that Russia regularly refutes such reports. Meanwhile Kiev says it has launched a preliminary investigation into the detained men on suspicion of "aiding terrorist groups."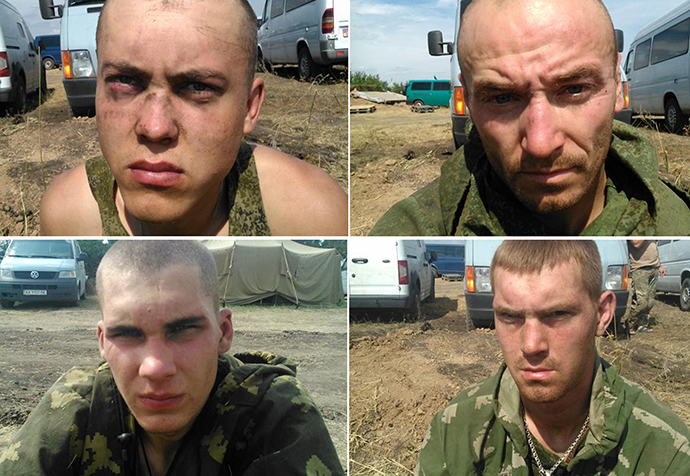 Ukraine's own troops in the meantime are also facing prosecution, with General Prosecutor's office announcing on Wednesday that 1,083 criminal proceeding had been launched since the beginning of the so-called anti-terrorist operation, with people being charged for "disobedience, unauthorized abandonment of a military unit or place of service, desertion, evasion of military service in another way, and so on."
Anti-Kiev militia in the meantime announced that almost 90 Ukrainian troops laid down their arms and surrendered on Wednesday alone, following at least 129 the day before, Ria reports.
On Sunday, the main headquarters of the Donetsk People's Republic announced that it had launched a counteroffensive against Kiev's "punitive forces" in the region, blocking and surrounding many of the military and paramilitary units.
The military equipment captured from local army depots and those forces surrendering en masse has allowed militia to form 2 tank battalions, 3 multiple launcher rocket system batteries, 2 self-propelled howitzer batteries, 3 cannon battalions of various calibers and 8 mortar batteries, the Chairman of the Council of Ministers of the Donetsk People's Republic Aleksander Zakharchenko told the press at the time.
The DPR army will no more act in small groups as instead full-bodied independent military units had been formed, he added, announcing the beginning of a major counter-offensive but at the same time calling on Ukrainian troops to surrender and leave the territory of the republic, promising absolute safety for everyone not involved in war crimes against the civilian population.
Ukraine has been engulfed in a violent internal conflict since April, when Kiev's military began its crackdown on the southeast parts of the country which refused to recognize the coup-installed government.
According to United Nations' estimates released Tuesday, over 2,249 people have so far been killed and over 6,033 wounded in the fighting in eastern Ukraine. The number of internally displaced Ukrainians has reached 190,000, with another 207,000 finding refuge in Russia, the UN said.
You can share this story on social media: