Russian soldiers captured in Ukraine say they 'were lost' in Kiev-released video
Kiev's army has released videos showing Russian paratroopers captured after an incursion into the country, ahead of Russian-Ukrainian talks in Minsk expected to have a large focus on the military and humanitarian crisis in eastern Ukraine.
Kiev claims the 10 men detained by the Ukrainians were fighting alongside anti-government forces. Ukraine's Defense Minister Valeriy Heletey said in a Facebook post: "Officially, they are on military exercises in various corners of Russia. In reality they are involved in military aggression against Ukraine."
President Vladimir Putin believes that Russian paratroopers could have accidentally ended up on the territory of Ukraine during a routine border patrol, and expressed the hope there won't be any problems in this regard.
"From what I heard – they patrolled the border, so could have ended up on Ukrainian territory. But they crossed to us too, Ukrainian soldiers in armored vehicles. And no problems arose. I hope that in this case [no problems will arise]," Putin said after a high-profile meeting in Belarus on Tuesday, adding that he had not yet received an official report from the Defense Ministry about the incident.
Sources in Russia's Defense Ministry earlier told Interfax news agency that the soldiers had been on a routine patrol, which accidentally strayed into foreign territory without any hostile intent.
"The servicemen in question were indeed patrolling the Russian-Ukrainian border. They had probably crossed it by mistake through an area which wasn't manned… as far as we know, there was no resistance during their arrest," a Russian defense source said, RIA Novosti reported.
Several of the captured paratroopers spoke in videos, condemning the political game of chess they believed to be taking place. One declared that he did not wish to fight and that it was not "our war," and that the Ukrainian crisis should be solved from the inside. Another said that he shared no affinity for the uprising in the east and called the Russian troops – presumably his detachment – "cannon fodder."
One of the men, 19-year-old Ivan Milchakov recounts how, back home, "They told us that the Bandera crowd is bad and the uprising is good. But when we were captured, our eyes were opened and the truth of what was happening was revealed to us... we didn't even know what we were there for, we were just told to go...we were lost, actually."
It was not clear from the videos if the paratroopers had been coerced into saying these things.
The Defense Ministry source emphasized that by not showing any resistance, the paratroopers had acted in accordance with the law.
The source also referred to numerous cases of incursions into Russian territory by Ukrainian soldiers, at times in small detachments, and any other times in big groups, 500 men in total. One incident involved an armored personnel carrier, and the soldiers were armed, the source said.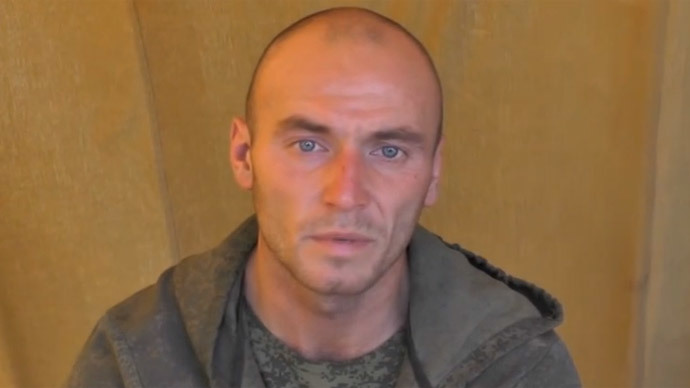 The Ukrainian allegations of incursions into their territory have been accompanied by other recent accusations, not least of which concerned the recent humanitarian aid convoys, suspected by Kiev at first of carrying arms. The convoy was checked a number of times by Western media and Red Cross representatives and contained nothing but humanitarian aid.
Russian humanitarian aid distribution begins in E. Ukraine
Other allegations involved the alleged massing of Russian troops on the border, no evidence of which was presented. Russian claims of cross-border fire by the Ukrainian side, on the other hand, were not properly investigated by Western powers.
The OSCE, based in Ukraine at this time, however, found no evidence to back up either claim made by the Ukrainian side.
You can share this story on social media: