Kiev flexes military muscle in army parade, sends hardware to conflict zone
Amid ongoing fighting, civilian fatalities and a severe humanitarian crisis in east Ukraine, Kiev has celebrated Independence Day with an Army parade, following which the showcased military hardware will be sent straight to the conflict zone.
On Sunday, Ukraine celebrated 23 years of independence from the Soviet Union with a military parade in central Kiev in a display of the country's military might.
Armored vehicles – such as anti-tank cannons, multiple launch rocket systems Smerch, surface-to-air missile systems Osa – rumbled on Khreshchatyk, the main street of Kiev. About 1,500 troops, including participants of the so-called "anti-terrorist operation" in the east of Ukraine took part in the celebration.
President Petro Poroshenko addressed the crowd on the capital's central square, Maidan Nezalezhnosti, the site of months-long protests which had led to the ouster of the country's former leader. The events that Ukraine has been going through over past several months, he said, can be described as "an undeclared, but a real war" inflicted by external "enemies".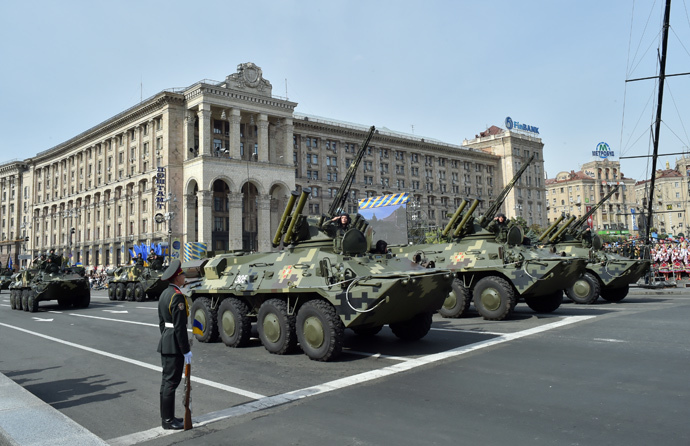 "Unfortunately, it is obvious that a military threat will constantly hang over Ukraine in foreseeable future," Poroshenko said. "We should not only learn to live with that, we should always be ready to protect our independence," he added.
Poroshenko announced that over $US 3 billion will be spent to re-equip and modernize the army in 2015-2017.
"The war was not our initiative at all," Poroshenko stated, adding: "our choice is peace." Then he announced that the armored vehicles that participated in the parade would immediately proceed to the conflict zone to join the "anti-terrorist" operation.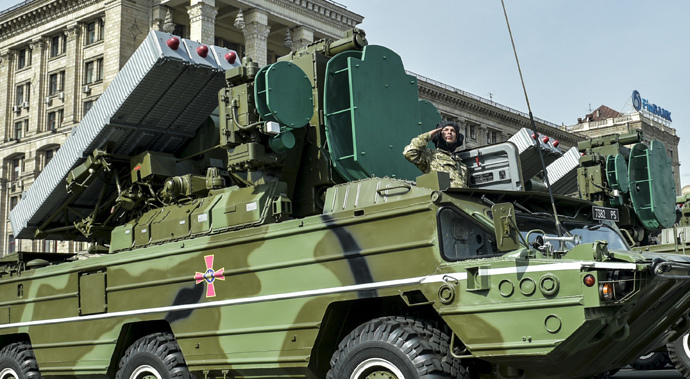 Poroshenko then flew to Odessa, the Ukrainian port on the Black Sea, to take part in yet another parade with naval forces. Ukraine has been and will be a maritime nation, he said in a speech.
Meanwhile, the situation in eastern Lugansk and Donetsk regions remains critical, with the population suffering from lack of access to such basic needs as water and food supply.
ICRC team in #Lugansk has been assessing needs today. Population terrified and in urgent need of support.

— Dominik Stillhart (@DStillhartICRC) August 23, 2014
According to the Organization for Security and Cooperation in Europe, the OSCE, a residential area in Donetsk's Kalinski region was "severely damaged by artillery" Saturday.
"At the scene, the SMM (the organization's Special Monitoring Mission) saw a five-floor apartment block with the ground in front of it littered with debris. Some sixty civilians, mainly elderly and in shock, were standing in the vicinity. Close to a footpath leading to one of the entrances, the SMM observed three bodies covered with blankets, judged by SMM to be two adults and a child, in close proximity to each other," the OSCE said in a statement published on Sunday.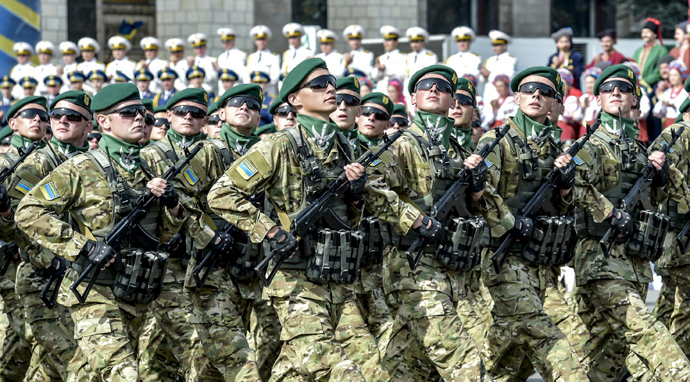 Local residents told the SMM that the three victims were a mother, father and their child.
"They said that another child, five years old and the fourth family member, died on the way to the hospital, as a result of head injuries," the report reads.
About 200 meters south of the scene, the OSCE monitors observed "a garage and a vehicle destroyed by what appeared to have been shelling". In front of the garage they saw a kindergarten with shattered windows and toys scattered around.
"A small group of civilians, mainly women, was observed close to the kindergarten in a state of shock," the OSCE said.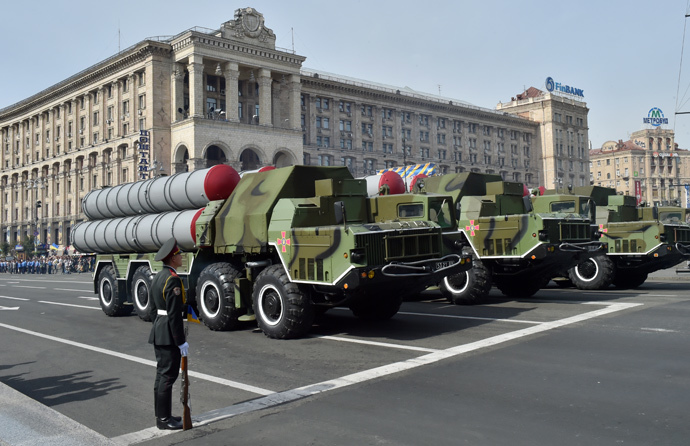 Earlier in the week, on the eve of Chancellor Angela Merkel's visit to Kiev, Human Rights Watch issued a statement urging the German leader not to let "Ukrainian abuses slide."
Wenzel Michalski, Germany director of the rights group, said his colleagues documented "the extensive damage caused to civilian areas and loss of civilian life, including by use of unguided Grad rockets by the Ukrainian military".
"In many cases, pro-Russian insurgents are using dense residential areas as launching areas for artillery targeting the Ukrainian government positions, thereby endangering civilians in violation of the laws of war. But insurgent abuses against civilians are no defense or justification for government forces' violations," the statement reads.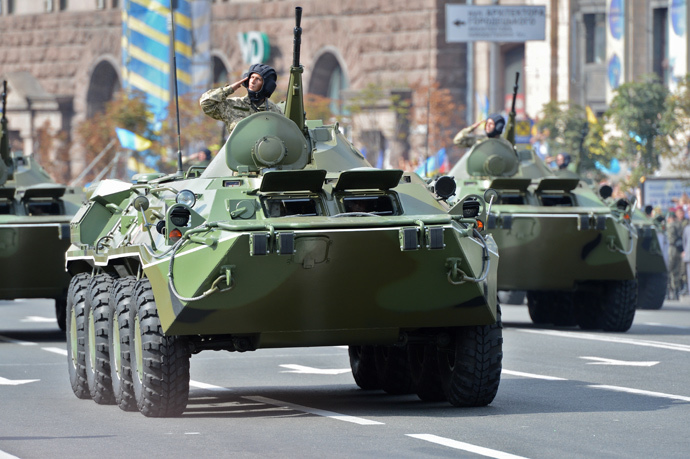 The German office of the rights group said it was "Merkel's responsibility to remind Poroshenko of Ukraine's obligations under international humanitarian law, which prohibits deliberate attacks on civilian objects, as well as indiscriminate or disproportionate attacks in civilian populated areas."
Germany made no direct reproaches, but pledged Kiev will get 500 million euro (about $660 million) credit guarantee to restore infrastructure in the war-torn eastern regions.
Germany, along with other EU nations, the US and NATO condemned Russia for sending humanitarian aid to the devastated Ukrainian regions without a final approval from Kiev, accusing it of the "violation of territorial integrity".
You can share this story on social media: