Ukraine president blames military failure on deserting commanders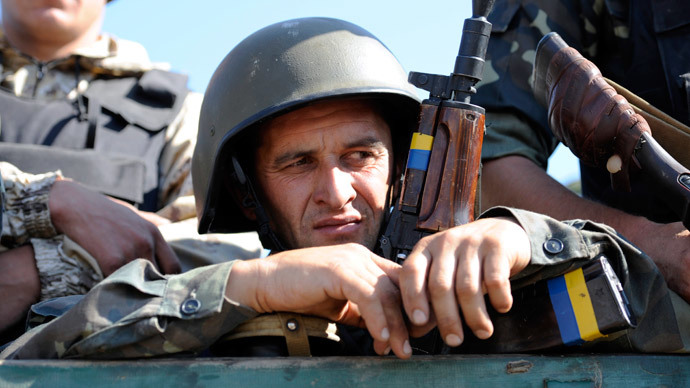 Petro Poroshenko has blamed Kiev troops' blunder in the battle for the town of Ilovaysk in the south-east on two deserted unit commanders. Kiev authorities have opened over 1,000 investigations into Ukrainian soldiers who deserted from the army.
"To a large extent, the events in Ilovaysk were caused by the leaders of the two units, who deserted their defensive line and created an emergency situation to their brothers in arms," Poroshenko said in his opening word at the meeting of Ukraine's National Security and Defense Council.

The president stressed that the Ukrainian state will take drastic measures "to prevent any betrayal or desertion" during the operation in the south-east.

The strategic town of Ilovaysk in Donetsk Region was retaken by the self-defense forces after several days of fighting on Tuesday, which led to the encirclement of five National Guard battalions.

The military failure caused a wave of rallies in Kiev and across the country as the protesters blocked Kiev's main street and demanded Poroshenko and the country's top military commanders resign.

As for the situation in the Donetsk and Lugansk regions, where the militias are advancing on Kiev's forces, the president said that it's "extremely complicated… but controllable, so that we don't panic."

However, National Security Council spokesman, Andrey Lysenko, said government forces took Ilovaysk under control on Thursday.

According to the spokesman, the trapped government troops received reinforcement on Wednesday.

Interfax-Ukraine news agency, which cited Lysenko, stressed that his claims aren't confirmed by any of its other sources.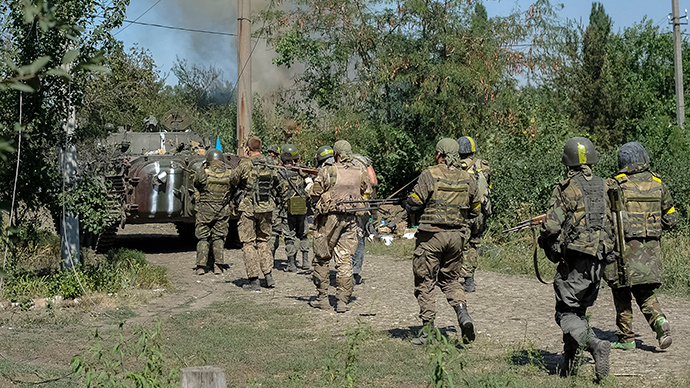 'You abandoned us': Ukrainian soldiers, their relatives accuse Kiev of neglect
Kiev authorities have opened over 1,000 investigations into Ukrainian soldiers who deserted from the army.
Protests of soldiers' mothers and wives who don't want them to fight have become frequent as troops say they have been abandoned by the government.
Over 60 Ukrainian troops cross into Russia seeking refuge
On Wednesday, the Ukrainian General Prosecutor's office announced that 1,083 criminal proceeding of desertion had been launched since the beginning of the 'anti-terrorist' operation.
Kiev troops have been charged with "disobedience, unauthorized abandonment of a military unit or place of service, desertion, evasion of military service in another way, and so on."
There have been a number of cases in which Ukrainian soldiers left their military hardware and surrendered to anti-government forces.
Anti-Kiev militia, meanwhile announced that almost 90 Ukrainian soldiers surrendered on Wednesday alone, following at least 129 the day before, RIA Novosti reports.
The soldiers claim that Ukrainian media underreports the number of casualties in the country's east.
"About 70 soldiers die every day, but they say it's only three or four per day on TV," an unnamed militia soldier told Hromadske.TV.
According to Ukraine's National Security Council spokesman Andrey Lysenko, at least 722 military personnel were killed and 2,625 others injured during the so-called 'anti-terrorist' operation in Ukraine's east.
Over 400 Ukrainian troops cross into Russia for refuge
However, the self-defense forces in Donetsk and Lugansk Regions say the number of casualties is much higher and Kiev is concealing the data, reports Novorossiya news agency.
Since the beginning of the military operation in Ukraine's east, the relatives of Kiev troops have repeatedly accused the government of inaction and demanded it stop the crackdown in Donetsk and Lugansk Regions.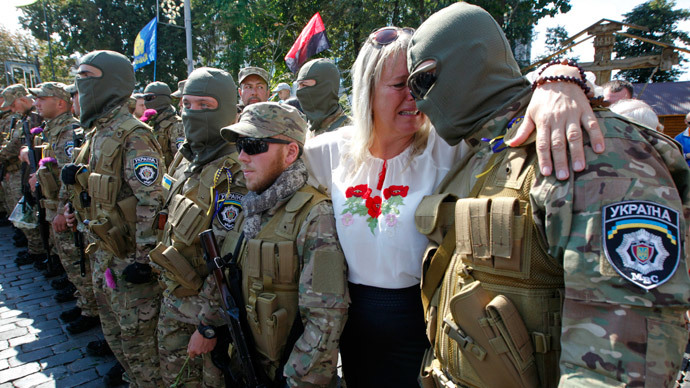 Protests are frequent near military bases
"When my husband was captured, how did you talk to me for the first time? You were swearing at me!" a woman shouted at an unnamed Kiev commander in the city of Novograd-Volynsky , Zhytomyr Region, western Ukraine, as reported by Hromadske.TV.
"When it comes to captured soldiers what are you doing?" she added, sobbing.
"I don't need my son in a coffin being called a hero! I need my hero at home! Alive! And they're yelling 'Glory to Ukraine, glory to heroes!' But I don't need THIS Ukraine!" shouted another woman.
The protests have been held in several western major Ukrainian cities, such as Ivano-Frankovsk, Nikolaev, Lvov and Zhitomir.
At the beginning of August, mothers of Kiev soldiers gathered in the southern city of Odessa to take part in a flash mob against the military operation. They wore slogans saying "Children should be born, not killed."
The soldiers taking part in the military operation in the country's east also feel frustration towards the Kiev government.
"Colonel, tell me one thing," shouted a Ukrainian soldier at one of the Kiev commanders. "When we were at Saur-Mogila [a strategic point in the Donetsk Region] for two days waiting for reinforcements, why were we abandoned?"
"We got out of the encirclement. And the officers told us, 'Oh, you're alive!'" he added.
Ukraine has faced a violent internal conflict since April, when Kiev started a crackdown in the country's eastern regions, which refused to recognize the coup-installed government.
According to United Nations' estimates released Tuesday, over 2,249 people have so far been killed and over 6,033 wounded in the fighting in eastern Ukraine. The number of internally-displaced Ukrainians has reached 190,000, with another 207,000 finding refuge in Russia, the UN said.
You can share this story on social media: