#RiceBucketChallenge! People donate food, raise drought awareness in ALS-inspired campaigns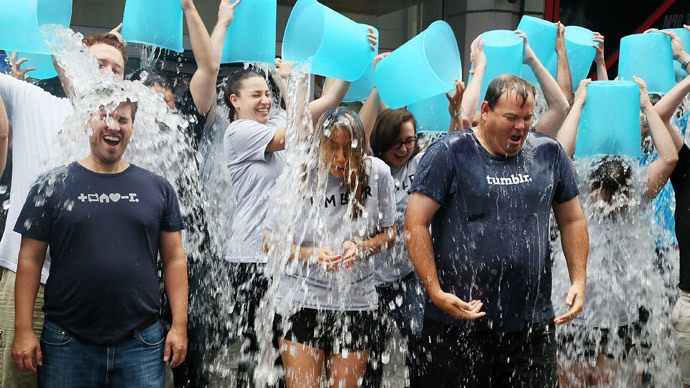 The outpouring of enthusiasm over the 'Ice Bucket Challenge' has sparked a global reaction with some unexpected twists involving buckets of rice or rubble, diggers tossing manure, and even waterless counter-protests against drought.
The Ice Bucket challenge took the globe by storm, with the trend gathering popularity from around August 12 and spiking last Thursday. Everybody from Obama to Putin was called upon to take the challenge, raiding awareness of ALS sufferers and raising more than $80 million for the charitable cause in the process. On top of giving hope, it also inspired.
In India, Manju Latha Kalanidihi, a journalist from Hyderabad, has started his "Rice Bucket Challenge".
Far from enthusiastically dumping buckets of grain over their heads, the trend actually urges participants to donate a bucket of cooked or uncooked rice to a needy person. A further option is the donation of medicines to the value of 100 rupees ($1.65) to a local government hospital.
Hunger in India remains at "alarming levels," according to the Global Hunger Index.
In less than a day, the Rice Bucket Facebook page had generated over 2,000 likes.
#IceBucketChallenge vs #RiceBucketChallenge Whom do you support ? pic.twitter.com/jZIf0127uU

— Praveen Saini (@Aghorii2) August 26, 2014
In another play on the bucket theme, Palestinian journalist Ayman Aloul has started a new internet trend in Gaza called, "the Rubble Bucket challenge," which has participants dousing themselves with buckets of dust and rubble.
Rubble in the Gaza Strip is certainly not scarce after the enclave has been bombarded by Israeli missiles for the last seven weeks. Aloul's cause is peace in the devastated region.
"I liked the idea of the ice bucket challenge, so I decided to invent the Palestinian version," Aloul said, standing next to a pile of rubble from a destroyed building.
In protest of the Israel/Gaza conflict, one person took it more than a step further, opting to replace the ice with manure and the bucket with a JCB digger.
No to the Bucket
While most celebrities have not missed the extra publicity that the ice bucket challenge gives them (everyone from Lady Gaga to Oprah Winfrey to George W. Bush has received a public dousing), some have politely declined the invitation to participate.
In China the Ice Bucket Challenge made a splash over the Great Wall on August 18, raising over $1 million among Chinese participants, CCTV News reported.
The stunt, however, sparked concerns over wasting water amidst severe drought conditions.
Last week, dozens of people in the hard-hit Henan Province, which is experiencing its worst drought since 1951, assembled outside the Spring Temple Buddha in Lushan County with empty red buckets. The Chinese characters on their shirts read: "Henan, please say No to the Ice Bucket Challenge."
#IceBucketChallenge vs #RiceBucketChallenge Whom do you support ? pic.twitter.com/jZIf0127uU

— Praveen Saini (@Aghorii2) August 26, 2014
The sentiment is quite shared in... California, which is experiencing drought conditions so severe that watering your lawn or filling your swimming pool will quickly attract the attention of the 'water police.' The idea of dumping precious water over your head – regardless of the charity – could land you on a Twitter site devoted to shaming fellow citizens who are guilty of wasting water.
The pop singer Grimes, for example, declined to participate due to the California drought, as well as the foundation's alleged testing of animals to find a cure.
"I would like to say that I don't feel great about wasting water in this California drought, but I will donate money. However I will not donate money to this foundation because of their record of testing on animals."
Grimes, whose real name is Claire Elise Boucher, opted instead to donate money to the Malala Fund because "education is the key to ending almost every issue that faces humanity and our world today."
Showing how the idea caught on - A world map of geo-tagged tweets mentioning #icebucketchallenge: http://t.co/naG0atiAdn

— Contagious (@contagious) August 26, 2014
The 'Ice Bucket Challenge' is the brainchild of Pat Quinn, a Yonkers, New York native who suffers from ALS, or Amyotrophic lateral sclerosis (also known as Lou Gehrig's disease after the famous American baseball player whose personal experience with the disease brought it to public awareness).
With the help of social media and a few friends, Quinn launched his idea, which consists of people being doused by buckets of icy water and then publicly challenging their friends to do the same within the next 24 hours — or donate $100 to an ALS charity. The results have raised some icy eyebrows in charity circles: The ALS Association reported this week that it has received $15.6 million in donations compared to $1.8 million during the same period last year (July 29 to Aug. 18).
The original challenge has already recorded its first possible fatality. Cameron Lancaster, from Fife, Scotland, died on Sunday evening in what police believe was a tragic accident connected to the ice bucket challenge. An investigation is pending.
You can share this story on social media: