33 killed, over 40 injured in fatal Egypt bus crash
Published time: 22 Aug, 2014 04:16
Edited time: 22 Aug, 2014 05:52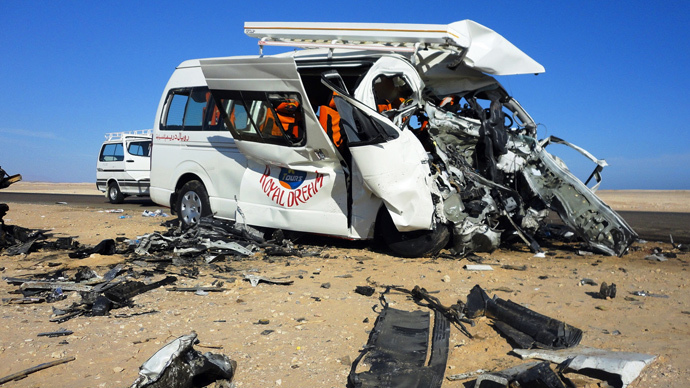 At least 33 people have been killed and more than 40 injured when two buses collided early on Friday morning in Egypt's Sinai Peninsula, according to the Egyptian news agency MENA. The incident happened around 50 km from Sharm el-Sheikh.
The accident is believed to have happened when one of the bus drivers fell asleep behind the wheel, which led to the collision, which was so strong that one of the vehicles overturned. Four foreigners are among the wounded, including one woman from Ukraine, two Saudi citizens and one from Yemen, according to local health ministry official, Mohamed Lashin.
The injured were being transported to two hospitals in the area. Lashin said there were more bodies in the wreckage, so the death toll could rise. The buses were travelling in the southern part of the Sinai Peninsula. One was coming from the popular holiday resort of Sharm el-Sheikh, while the other was from a Nile delta province, according to security sources, Reuters stated. There are around 30 ambulances at the scene, tending to the wounded.
#عاجل l اتفرَّج #أخبار l #الصحة: ارتفاع ضحايا تصادم أتوبيسي #شرم_الشيخ لـ27 قتيلا و41 مصابًا #مصر #طور_سيناءpic.twitter.com/pdZ3IF931D

— itfarrag - اتفرَّج (@itfarrag) August 22, 2014
Egypt's roads and railways have a poor safety record, and locals have often complained that the government's failure to implement even basic safety standards has led to frequent accidents.
Last year, 24 people died and 28 suffered injuries after a cargo train collided with a minibus and a pick-up truck just south of Cairo. The train hit the vehicles at a crossing in the Giza district around 40 kilometers south of the Egyptian capital. The locomotive driver was caught off guard when the pick-up truck and minibus ignored the safety barriers and tried to cross the railroad tracks.
In 2012, 50 people, mainly schoolchildren, lost their lives when a train ploughed into their school bus at a level crossing in Cairo, while five German tourists and three Egyptians perished in the same year after two mini-buses crashed into each other near the Hurghada resort near the Red Sea.
In December 2008, seven Russian tourists were killed and 17 injured after a bus crashed near the southern Egyptian resort town of Dahab, due to poor weather.