At least 24 killed after train collides with mini-bus, truck in Egypt
Published time: 18 Nov, 2013 01:13
Edited time: 18 Nov, 2013 09:28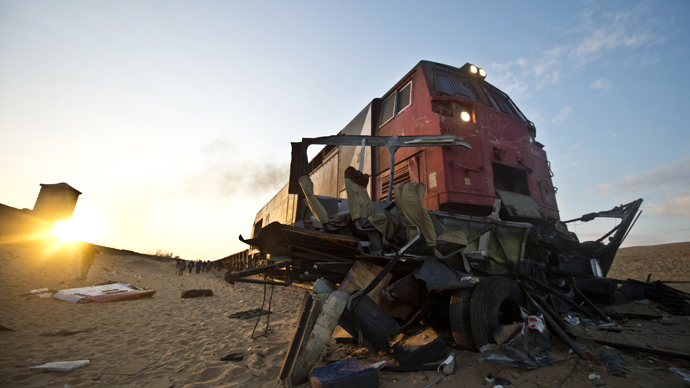 At least 24 people were killed and 28 others injured when a cargo train collided into a mini-bus and a pick-up truck just south of Cairo, police and state media reported.
The cargo train was traveling from the city of Bani Swaif and it crashed into the vehicles at a crossing in the Giza district, located about 40 kilometers (25 miles) from Cairo, according to Egyptian officials. 
Most of the injured were members of the same family which was traveling in the mini-bus from a wedding, state TV reported.
The cargo train was carrying construction material, one of the officials revealed.
"We are still investigating the incident and once we are done we will issue a statement," an interior ministry source told Reuters.
The driver of the train was caught off guard when the mini-bus and pick-up truck stormed into the crossing, the head of Egypt's railway authority, Hussein Zakariya, told MENA news agency.
Zakariya also said that according to initial reports, the railway crossing gates were already closed at the time of the incident. "What could the guards have done? Stand in front of the bus?" he said. "The initial reports show no negligence...we shall wait for the investigation."
Egypt's railways have a poor safety record. The transportation ministry was heavily criticized when 50 people, mostly children, were killed when a train collided with a school bus in Cairo in 2012. 
The worst railroad disaster to take place in Egypt killed 360 people in 2002, when a blaze ripped through seven carriages on an overcrowded train. 
The country's interim government had allocated a US$4.3 billion stimulus package - part of which was dedicated to cover improvements in the transportation sector.