At least 50 children killed in Egypt as train hits bus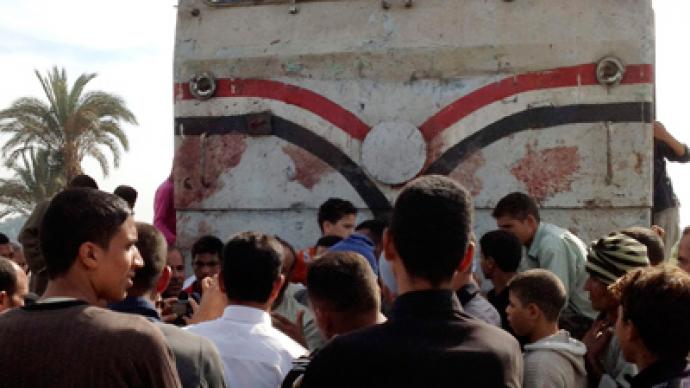 At least 50 kindergarten pupils have been killed in Egypt after a speeding train hit their bus. The death toll may rise as the victims are being accounted for. The bus driver was also killed in the accident.
The bus was carrying more than 50 children aged between four and six, when it was hit near al-Mandara village in the province of Assiut.It appeared that the railroad crossing was not closed as the train approached, a local security official told AP.One witness said the train pushed the bus along the tracks for nearly a kilometer. Books, school bags and other personal possessions were scattered along the horrific scene. Many of the remains are beyond recognition.Shocked families desperately searched the rubble for signs of their loved ones.Doctors say the between seven and 11 wounded are being treated in two different hospitals, many with severed limbs.President Mohamed Morsi ordered his ministers to offer support to the families of those killed, Egypt's state news agency MENA reported. The governor of Assiut, Yahya Keshk, ordered an enquiry.In a televised address from his office, Morsi tasked the state prosecutor with investigating the crash. "Those responsible for this accident will be held accountable," he said.Transport Minister Rashad al-Metini and the head of the Egyptian Railway Authority have resigned in the wake of the accident, according to a report.The accident comes just one week after two trains collided in another southern province, killing four people. Egypt's railroad system is notorious for being poorly maintained and managed, leading to a poor safety record. The country's worst railway disaster in February 2002 killed 363 people, after a train caught fire.