Israeli negotiators 'ordered back' from truce talks as IDF, Hamas resume fighting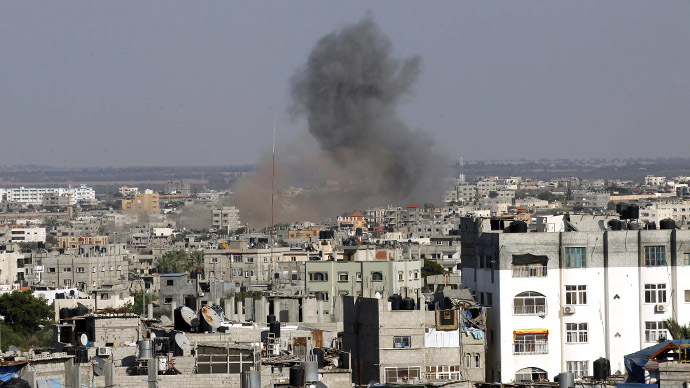 Israel's Prime Minister Benjamin Netanyahu has reportedly ordered his negotiators back from Egypt after new rocket strikes between Israel and Gaza took place on Tuesday.
Netanyahu instructed the military to target the Gaza strip again after three rockets were directed from Gaza into southern Israel, a government official told Reuters.
"In response to Hamas's violation of the truce, the Prime Minister and Defense Minister have ordered the IDF [Israeli Defense Forces] to once more attack terror sites in the Gaza Strip," the official said.
In response to today's rocket fire, we have begun striking terror targets in the Gaza Strip.

— IDF (@IDFSpokesperson) August 19, 2014
The IDF claimed to be aiming for "terror targets" east of Gaza city after a Reuters correspondent saw an Israeli plane shoot a missile to the east of Gaza City.
Shortly after the withdrawal and rocket fire exchange, Israel stated that it had intercepted two further rockets which had been directed into southern Israel. Nobody was hurt in the process of interception, reported AP. A further rocket fell in Ashdod, some 32km south of Tel Aviv.
BREAKING: A rocket hit an open area near Ashdod

— IDF (@IDFSpokesperson) August 19, 2014
"Since terrorists violated the ceasefire today, 8 rockets have been fired from Gaza. 6 hit Israel & 2 were intercepted by the Iron Dome," the IDF clarified on Twitter.
A five-day ceasefire in the conflict came to an end Monday night, after which a further 24-hour ceasefire was agreed upon in Cairo.
"Yet again, terrorists breach the ceasefire and renew fire at Israeli civilians from Hamas-ruled Gaza Strip. This continued aggression will be addressed accordingly by the IDF," Israeli military spokesperson Lt Col Peter Lerner told The Guardian.
Relations deteriorated fast between Israel and Palestine after June 12, when three Jewish teenagers were kidnapped and killed in the West Bank – an act which Israel blamed Hamas for.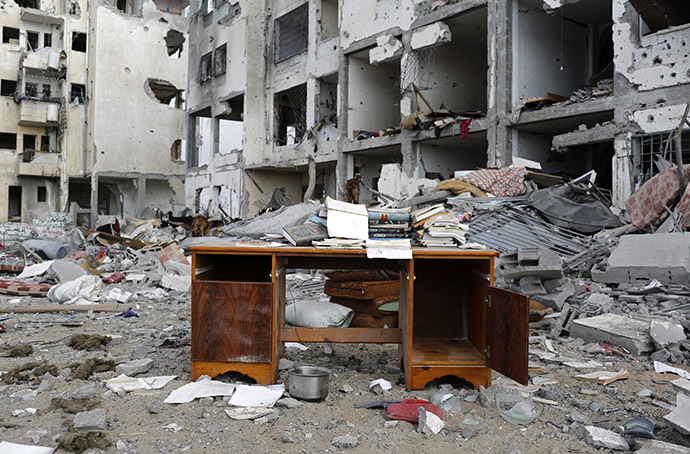 The delegates in Cairo from both sides have been struggling to establish a longer-term deal in talks mediated by Egypt's security service. The six-week long conflict has seen more than 2,000 deaths.
On Monday, despite the ceasefire, the Palestinian chief negotiator, Azzam al-Ahmad, declared that there had been "no progress."
"We have agreed on an extension for another day – just one day. Whether we agree or not, just one day," said Al-Ahmad.
Hamas has been demanding that the Israeli-Egyptian blockade on Gaza be lifted, while Israel is insisting that Hamas disarms. The Islamist Hamas group, which has backing in the Palestinian unity government, has ruled out that option.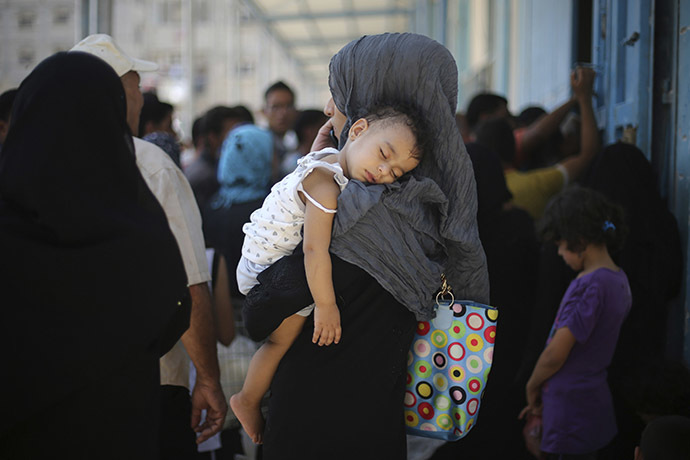 Israel has additionally been seeking the remains of a pair of soldiers killed in combat. It believes Hamas to be holding on to the bodies. Palestine has demanded that Hamas prisoners be released by Israel.

Hamas has also expressed a wish for a seaport and airport in Gaza. The seaport was initially agreed upon, but detailed discussions over its implementation have been delayed for at least a month.

Other discussions have surrounded the opening of crossings and import of materials for construction.

Egypt has so far provided little detail as to how the talks have unfolded.
You can share this story on social media: