Kiev: Russia's humanitarian convoy will not be allowed into Ukraine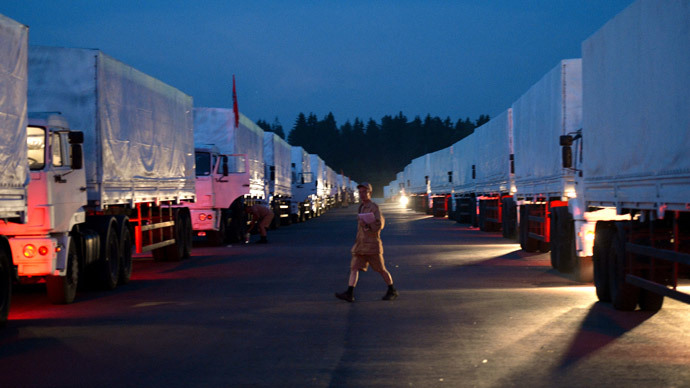 Kiev intends to hold up the internationally-supervised Russian humanitarian aid convoy meant for the Ukraine's east for at least a week, a spokesman for the Ukrainian military said.
Russian humanitarian convoy departs to E. Ukraine (VIDEO)
Ukraine said the time is needed for the International Committee of the Red Cross (ICRC), which is contributing to the Moscow-initiated mission, to establish where the aid should go in the Ukrainian region engulfed by civil war.
However, Russia's Emergencies Ministry spokesman, Aleksandr Dobryshevsky, said that the destination for the Russian humanitarian aid will be determined jointly by Moscow's representatives, the International Committee of the Red Cross and the Ukrainian government.
The convoy of 280 trucks dispatched on Tuesday "did not pass the ICRC certification," Andrey Lysenko said.
Presidential aide Valery Chaliy said Kiev wants the entire cargo to be unloaded on the border and transferred to Red Cross vehicles.
"We will not allow any escort of the Russian Emergencies Ministry or Russian military," he said. "Ukraine will take responsibility for this procedure."
Lysenko claimed that the convoy consists of repainted military trucks and is accompanied by an S-300 air defense system, according to the news agency Ukraine National News.
He didn't elaborate on why Russia would need to send a system that is meant to protect key strategic positions from enemy aircraft and missiles, but is useless in guarding a convoy of vehicles on the move.
The ICRC said it was informed by Moscow that the convoy had been dispatched, but had yet to receive detailed shipping lists and distribution plans.
"The situation is changing by the hour and right now we are not in a position to provide further details now as to how this operation could take place," ICRC spokesperson Anastasiya Isyuk told RT.
Prior to the halt in the mission, Moscow said that all the details had been agreed by all parties concerned.
Russia has sent some 2,000 tons of aid to Ukraine, including food, medicine, sleeping bags and power generators.
The cargo is meant for the Donetsk and Lugansk regions, which have seriously suffered in more than three months of warfare, as Ukrainian troops used heavy artillery, bomber aircraft and tanks to advance on cities controlled by the militias.
On the brink of survival: No electricity, water, communications in besieged Lugansk, E. Ukraine
Kiev earlier accused Moscow of trying to conduct a stealth invasion of Ukraine under a guise of humanitarian aid, saying that Russian troops would be posing as guards of the convoy while actually tasked with starting an offensive.
The narrative was supported by some western countries, which said that any humanitarian mission not backed by Kiev would be considered an attack on Ukraine's sovereignty.
Russia dismissed the accusations as nonsense.
In another media briefing on Monday evening, Lysenko stated that the humanitarian convoy to Ukraine was organized "under an agreement between [President] Petro Poroshenko and the Red Cross," and that Russia "wants to present this mission as its own initiative" as a publicity stunt.
You can share this story on social media: