On the brink of survival: No electricity, water, communications in besieged Lugansk, E. Ukraine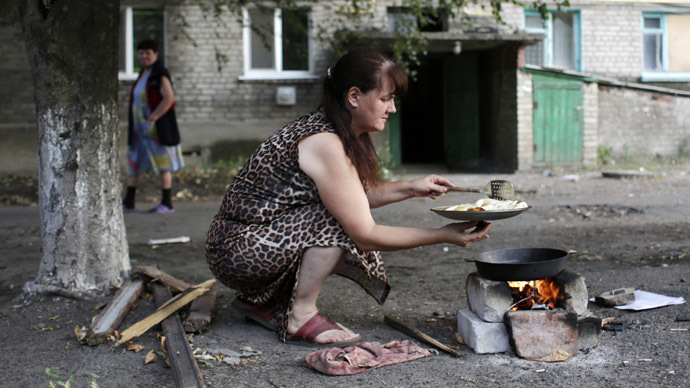 250,000 people have been left without water, electricity and communications for over a week in the eastern Ukrainian city of Lugansk. The town is subject to siege conditions and under heavy bombardment.
"We're being bombed so severely, there's hardly anything left to bomb. People are running out of money. How are we supposed to survive in this heat? What if some sort of epidemic breaks out? What should we do?" local woman Nadezhda Essaulinka exclaimed, emotionally.
The local administration says that "pension, salaries, and social benefits haven't been paid. Some employees haven't received their salaries for a month - others for over two-and-a-half months."
Most of the shops in the city are closed, and produce is sold in the streets.
No deliveries of food, medical supplies, or fuel have been reported, according to the Itar-Tass news agency.
Phones are down all over the city and the locations that still have it are sometimes marked with "Shelling zone" signs, RT's Maria Finoshina said.
A city resident blamed Kiev for what is happening to them.
"We used to have food and water. But now Kiev has completely destroyed our city. There's no water and electricity now, there's nothing," Lidia Ostroverkhova told RT.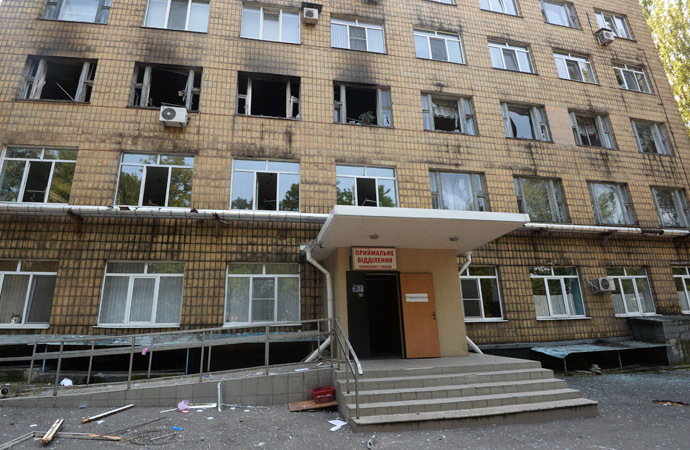 Locals are stressing that the shelling is continuous, especially over the weekend.
"They're terrorizing us and attacking us daily - and they step up the shelling at the weekend. They've attacked all of our businesses, which were the main hope for our economy," Olga Kaplya said.
In some areas, residents are forced to use water pumps, as more locations are becoming a banned zone for trucks.
"They used to bring water here, but they stopped once the shelling started. Some say the driver of the water truck was killed," local resident Andrey Petrenko said.
At least a dozen apartments and private homes are shelled daily in the city, as locals told RT.
It comes as the Ukrainian authorities have called on the residents of eastern Ukrainian residential areas to leave their hometowns if the self-defense forces are there – despite the constant deadly fighting going on in the region.
"We are addressing the locals once again: leave those cities. It's temporary," spokesman for the National Security and Defense Council of Ukraine, Andrey Lysenko said, as quoted by Vesti.ua portal.
According to latest Ukraine figures by the UN, 117,000 are internally displaced, while 730,000 others, according to Russian data, have fled to Russia.
For more on the life of people in Lugansk, watch Maria Finoshina's report.
You can share this story on social media: