Red-level weather alert as typhoon Halong lashes southern Japan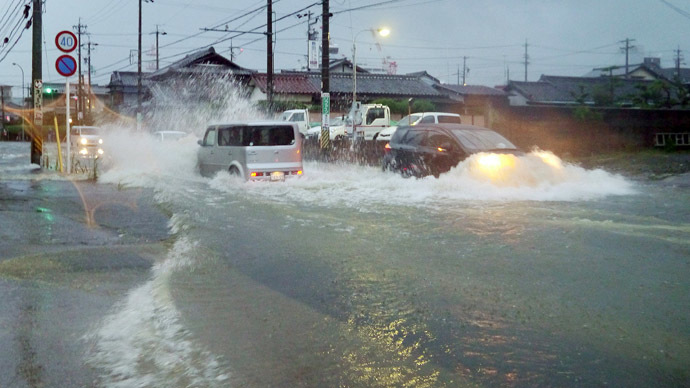 A powerful typhoon is raging through southwestern Japan, prompting the country's meteorological agency to issue the highest red-level weather alert. At least 6 people have been injured and half a million locals were urged to evacuate.
Typhoon Halong, which has already been unofficially classified as a super typhoon, has caused rains and winds of up to 198 kilometers (123 miles) per hour.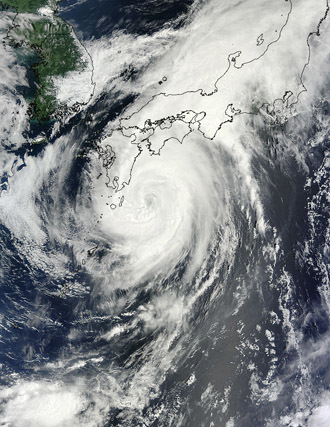 As of 3pm on Saturday, Halong was traveling north-northeast some 160 km south-southwest of Cape Ashizuri in Kochi Prefecture at 150 kph. The maximum sustained wind speed near its center was 126 kph, the Japan Times reported.
The Japan Meteorological Agency has issued the highest red-level weather alert, which means that the storm poses a threat to life and could inflict massive damage.
Strong winds have already left six people injured, one of them seriously, in Miyazaki prefecture in southern Japan.
The Agency also warned of heavy rain and flooding from Okinawa to Ishikawa on the coast of the Sea of Japan, as Halong headed toward landfall on Shikoku later on Saturday.
By 6am on Sunday, rainfall may reach 700mm in Shikoku, 600mm in the Kinki and Tokai regions, 400mm in northern Kyushu and 300mm in southern Kyushu, the agency predicted.
Hundreds of thousands of residents in southern Japan have been advised to leave as the typhoon with heavy showers batters the country's southwest, from Kyushu to the Kii Peninsula on Saturday.
"We're asking residents to stay on high alert over landslides and to evacuate as early as possible when advised by local officials," Hiroshi Sasaki, the agency's chief forecaster, told a news conference.
Evacuation orders have already been issued in Yamaguchi Prefecture, part of the Chugoku region, and Tokushima and Kochi on Shikoku, affecting some 2,700 residents from more than 1,300 households.
In Mie prefecture, in central Japan, some 300 kilometers west of Tokyo, the cities of Yokkaichi and Suzuka in northern Mie have issued evacuation instructions to some 512,000 residents, city officials and local media said.
"We are strongly urging our residents to evacuate, while we are hurriedly setting up temporary shelters across the city," a Yokkaichi official said, according to the South China Morning Post.
The Japanese weather agency's chief forecaster, Satoshi Ebihara, said at a news conference that the levels of torrential rain monitored in Mie were already "unprecedented."
"We are in an abnormal situation where serious danger is imminent," Ebihara said.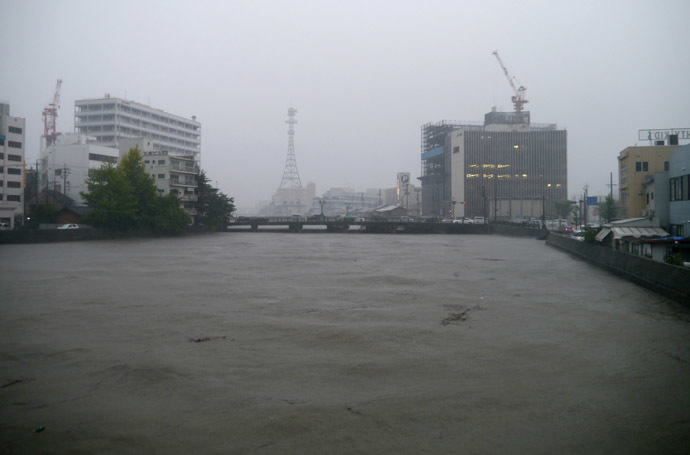 Typhoon Halong, which is expected to make landfall in the Shikoku region on Sunday, has already affected air travel as thousands of people were about to start the summer "Obon" Buddhist holidays, which is one of the year's busiest travel periods in Japan.
Airlines, including Japan's two major carriers Japan Airlines Co. and All Nippon Airways Co., canceled about 500 flights on Saturday, affecting more than 20,000 passengers.
As of Saturday evening, the airlines had also cancelled more than 50 flights scheduled for Sunday.
Most ferry and train services on the southwest island of Shikoku have also been canceled, while highways were closed at several points.
Halong, the nation's 11th typhoon of the year, is predicted to have passed through most of Japan's territory by the end of the weekend, reaching its northwestern regions by Monday.
The storm comes a month after another strong typhoon, Neoguri, passed over the Japanese archipelago in July, claiming the lives of three and leaving 63 people injured.
You can share this story on social media: