US missile cruiser enters Black Sea again 'to promote peace'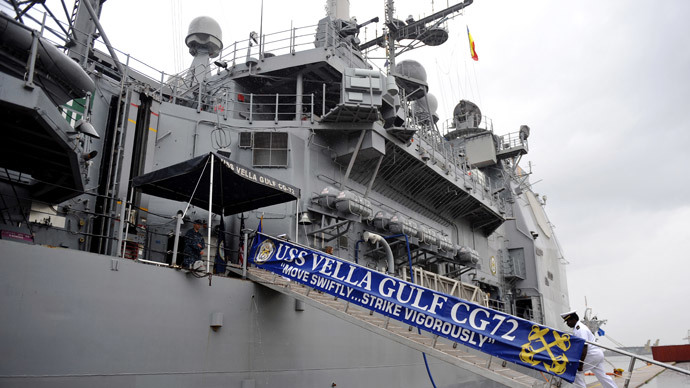 US missile cruiser Vella Gulf has entered the Black Sea in what the American Navy described as a move to "to promote peace and stability in the region." Moscow has considered any such acts as "offensive."
The Ticonderoga-class guided-missile cruiser USS Vella Gulf (CG 72) entered the Black Sea on Wednesday as part of the effort to "strengthen the collective security of NATO allies and partners in the region," according to a statement by the US 6th Fleet.

"The US Navy's forward presence in Europe allows us to work with our allies and partners to develop and improve ready maritime forces capable of maintaining regional security," the statement reads.
The multi-mission cruiser Vella Gulf is 173 meters long, carries up to 400 crewmembers aboard and can achieve a speed of over 30 knots. The vessel's weapons include SM-2 surface-to-air missiles, Harpoon anti-ship missiles, Tomahawk cruise missiles, torpedoes, Phalanx Close-in Weapons Systems for self-defense against aircraft and missiles, and five-inch, rapid fire guns.
#USSVellaGulf enters #BlackSea to promote peace and stability in the region. http://t.co/yWzwaxk7C1#PresenceMatters

— U.S.NavyEuropeAfrica (@NAVEUR_NAVAF) August 6, 2014
It's not the first time this year that Vella Gulf is sent on a mission in the Black Sea. It was moored in the port of Constanta, Romania from late May till mid-June.

In July, the US missile cruiser spent a week in the Black Sea, joining six other vessels for NATO's naval drills.
The vessel can't stay in the area for long and has to come and go instead, as the Montreux Convention, a US-authorized treaty from 1936, bars outside countries from keeping warships in the Black Sea for more than 21 days.

Despite the limits set by the convention, NATO has managed to increase its presence in the region in the wake of the Ukrainian crisis by constantly rotating warships there. Moscow has never approved of what it sees as the military alliance's muscle-flexing in its backyard.

Vladimir Putin has promised Russia will respond to NATO's expansion towards its borders.

"No matter what our Western counterparts tell us, we can see what's going on," Putin said at an emergency Security Council meeting in late July. "As it stands, NATO is blatantly building up its forces in Eastern Europe, including the Black Sea and the Baltic Sea areas. Its operational and combat training activities are gaining in scale."

Putin stated that NATO's military build-up near Russia's border is not just for defense, but is an "offensive weapon" and an "element of the US offensive system deployed outside the mainland."

Earlier, Russia responded to NATO's military drill in the Black sea by launching its own war games in the region on the same day.
As part of the NATO build-up at the Russian border, the alliances warships have also intensified patrols in the Baltic Sea, and jet fighters have likewise stepped up their air patrols.
Thousands of NATO troops held exercises in Latvia in June.
In July, NATO's Europe commander General Philip Breedlove, reportedly, came up with the idea of stockpiling a base in Poland with enough weapons, ammunition and other supplies to support, if needed, a rapid deployment of thousands of troops against Russia.
You can share this story on social media: