Swiss Miss: Secretary takes nude 'selfies' in parliament building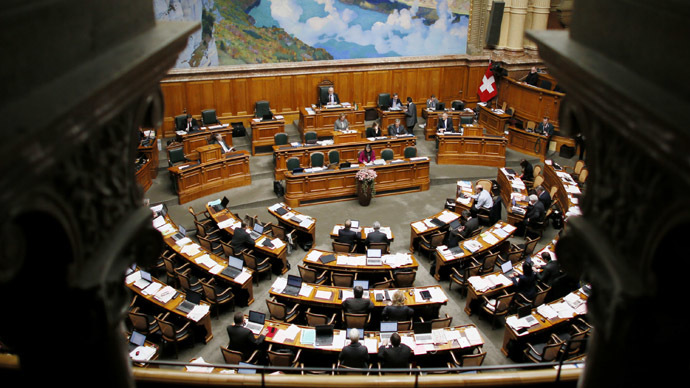 A Swiss woman has caused a storm by posting nude pictures of herself from the country's Federal House online, local media report. The secretary however insists they are part of her private life, which hardly amounts to rule breaking.
The unnamed woman took the majority of the 'selfies' at the Swiss government and parliament building in Berne, according to the Neue Zuercher Zeitung (NZZ).
The selfie-taker, who works as a secretary at the parliament, had been doing it "regularly," the paper said.
However, recommendations for the staffers say that only those images and texts can be published on the web that "you would at any time to show your colleagues, employees or superiors." Restrictions may extend into private life since any actions putting the employer's reputation at risk are advised against.
When the woman was asked by the NZZ if she was worried that her colleagues might see the pictures, she said: "The issue is on my mind constantly."
The publication did not explain why she had decided to post the images. Attempts to find her page on Twitter proved fruitless, indicating that she has likely deleted her profile.
Meanwhile a spokesmen for the Swiss government's human resources department said that he had only heard of the unusual case following the news report on Wednesday.
"Parliamentary services will have to decide, based on the specific circumstances, whether this case breaches good faith obligations between employer and employee," Anand Jagtap said.
You can share this story on social media: