Dizzy, daring selfies snapped on top of Brazil's Christ the Redeemer statue (PHOTOS, VIDEO)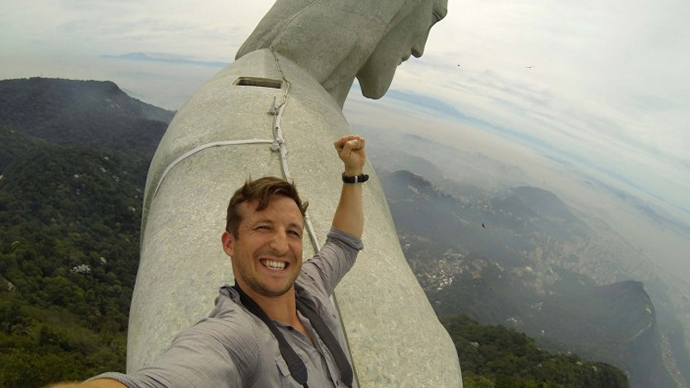 A British travel company boss has taken the art of the selfie to new heights, when he got rare permission to climb to the top of Brazil's Christ the Redeemer statue, and, once there, took a picture of himself sticking out of the statue's head.
Lee Thompson, 31, co-founder of a group travel firm has posted a number of head-spinning photos in his blog. The selfies from the top of the iconic statue - 38 meters high and also standing on a 700-meter-high mountain - instantaneously went viral.
My #selfie at the top of Christ The Redeemer statue in #Rio! See more crazy pics here! http://t.co/RkgnT0f0Prpic.twitter.com/fK49cK6hH5

— Lee Thompson (@snapperlee) May 29, 2014
"Looking at this selfie still makes my heart race and knees buckle!" the picture taker writes.
While Thompson gives no details of how exactly he and his colleague, Oliver Harvey, managed to convince the Brazilian tourist board to let them scale the statue, he gives a graphic and emotional account of his 25 minute-long progress inside the monument to his giddy selfie success.
The climb was carried out with the help of two steeplejacks. The group had Go Pro cameras with them, and there's now a video of the ascent posted on YouTube.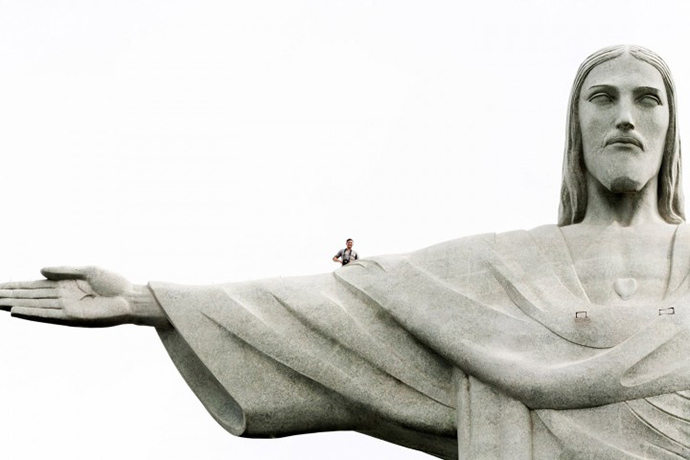 Thompson writes of having to crawl "in circles up 12 flights of rickety stairs that seemed to get narrower with every step."
"As I popped my head out of the hole in Jesus' crown, I was in total and utter awe as my eyes met with a vast panorama that quite literally took my breath away," Thompson says in his blog at The Flash Pack website.
"Talk about a religious experience! I've never been afraid of heights or tight spaces, but experiencing acrophobia, claustrophobia and profound awe at the same time was something truly remarkable."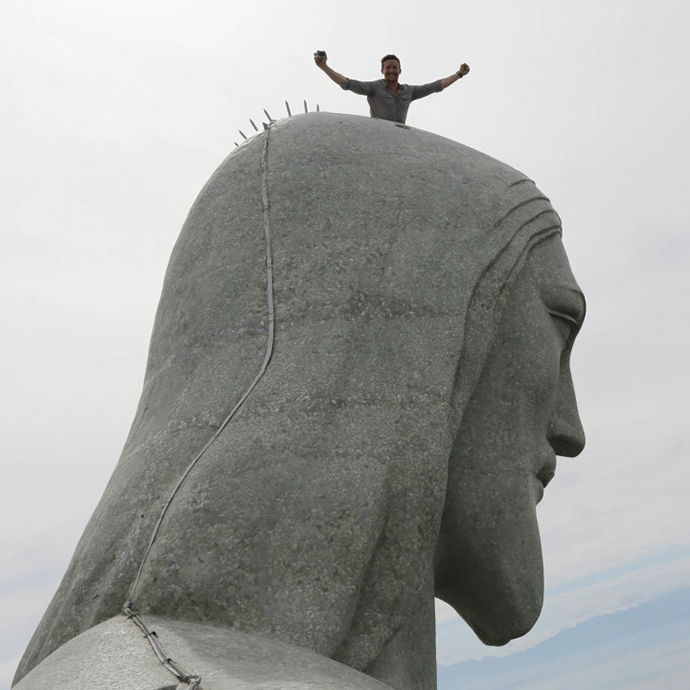 You can share this story on social media: