​Dangerous drive: Missile narrowly misses car on road near Donetsk (PHOTO, VIDEO)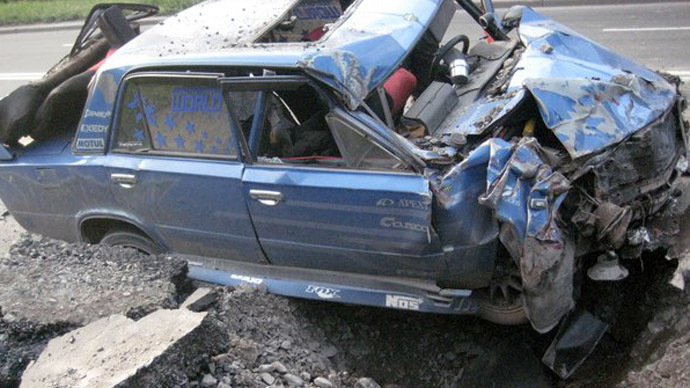 A shocking video has emerged online, with a Donetsk resident posting footage of a missile landing right in front of his car.
The footage shows him driving, and then the missile rapidly approaching, almost hitting the car itself, with smoke then obscuring the view.
One might think that the driver would have been killed in the impact, but he emerged safe and sound from the car, which was all that got smashed.
The man posted the video on the main Russian social network Vkontakte, entitling it "My second birthday."
Apart from the video of the incident, the driver whose name on the social network is Vova Prach, posted a photo of the consequences of the strike.
"Petrovsky Street, near the car market "Olymp", an artillery strike, around 17.00," the caption to the photo stated.
Dozens left messages on the man's page, congratulating Prach on his narrow escape.
The incident followed multiple air strikes that hit Donetsk on Tuesday evening.
It also comes after food shortages were declared in the town of Shakhtersk, 50 kilometers from Donetsk.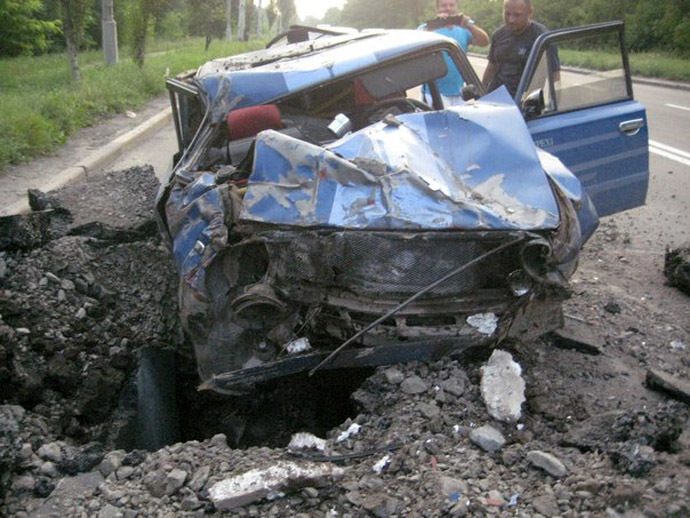 The lack of food in Shakhtersk has been blamed on the constant Ukrainian army attacks, Russian news portal LifeNews reported.
On Monday, UN refugee agency UNHCR reported that over 117,000 people have been displaced in eastern Ukraine (the number is currently 1,200 people per day), and as of August 1 around 168,000 people have fled to Russia (730,000 in total since January).
Ukraine's envoy to the UN stated that there was "no humanitarian crisis" in the east, and that the situation was "manageable by the government."
At the same time, Moscow suggested sending a humanitarian aid mission to eastern Ukraine under the aegis of the International Committee of the Red Cross (ICRC), Russia's UN envoy Vitaly Churkin said at an emergency UN Security Council briefing.
You can share this story on social media: