Kiev 'gave up on us': Ukrainian commander tells why 400 troops escaped into Russia
The command in Kiev has blatantly abandoned a group of more than 400 soldiers encircled by the self-defense forces, the senior Ukrainian officer who requested sanctuary in Russia with his men has revealed.
Follow RT's LIVE UPDATES on Kiev's bloody military operation in E. Ukraine
Lack of ammunition, food, fuel and clear orders from the command on how to act in the condition of encirclement has made the Ukrainian troops cross the border, Major Vitaly Dubinyak, a battalion commander, told Itar-Tass news agency.

"For two weeks, we were fighting back without ammunition and fuel. I didn't have the opportunity to feed my men for almost two weeks. We even ran out of first strike ration. The personnel were more exhausted by despair than by the actual shelling," Dubinyak said.

"Other than giving us a command to 'hold on,' Kiev provided us with no other assistance. And during the last week, they've aborted all communication. They've simply given up on us," he added.

A total of 438 soldiers, including 164 Ukrainian border guards, were allowed into Russia on Sunday night.

The troops have been housed in a tent camp deployed near the checkpoint via which they entered Russian territory.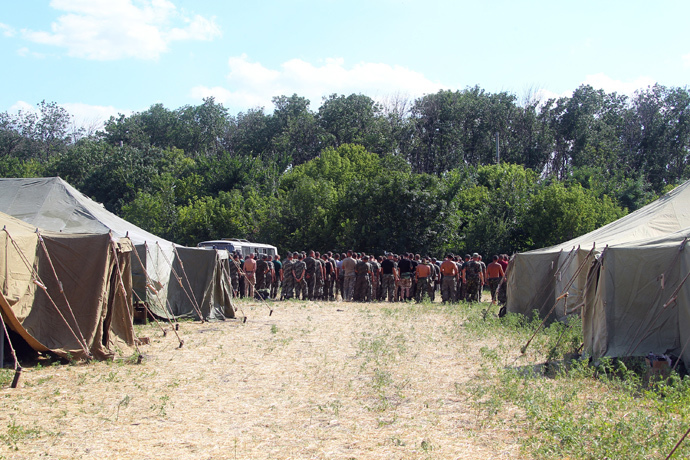 "In order to save the people, the commanders of units have made a decision to cross the border with Russia. All the equipment and weaponry had to be left on the Ukrainian side. The main thing was to save the people," the commander stressed.
'This civil war must be stopped'
Dubinyak said that he was surprised by "almost brotherly" treatment his men had received from Russian colleagues.

"Those, who give order to us are lying that we are in war with Russia. None of the Russian's even gave a wry look. They understand that we are hostages in this troubled situation," he said.
READ MORE: Activists seek probe into Ukraine's use of child soldiers in Donbass
"A medical check-up was organized for us here. The wounded received assistance. We were fed. We showered for the first time in a month. We were given clothes, with conditions required for recreation created for us," the commanded added.

According to Dubinyak, his men went through "a meat grinder" and they won't return to battle again.

He urged the decision makers in Kiev to "fight on their own and send their own children to die."
READ MORE: Kiev deploying missile launchers, multiple rocket systems near Donetsk - Moscow
The commander also admitted that the fighting in south-eastern Ukraine has turned into a full-scale civil war.

"I don't know how I'll look into the eyes of the mothers of those of my boys, who died. But I know for sure that this civil war must be stopped. I've seen enough tears of the locals and enough suffering of my men. I'm sick of it. The main thing is that we're alive. We'll deal with the rest after we get home," Dubinyak concluded.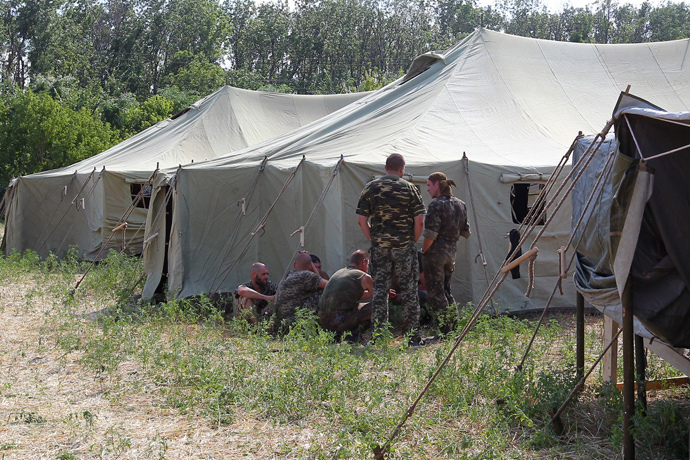 You can share this story on social media: