Palestine pushing for Hague Court probe into Israeli 'war crimes' in Gaza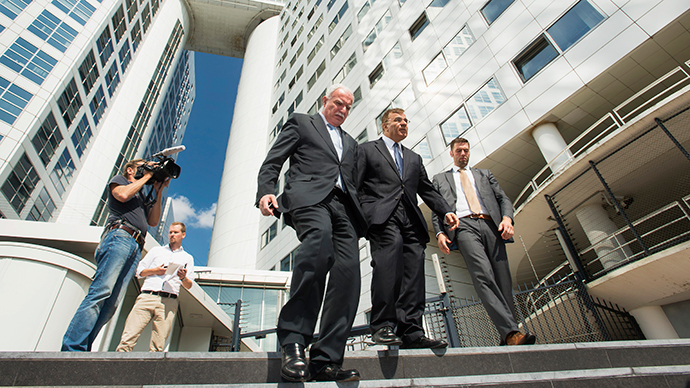 Palestinian Foreign Minister Riad al-Malki has said that Israel must be prosecuted at The Hague court for war crimes it committed during the offensive in Gaza, and that Palestinian authorities are planning to join the International Criminal Court (ICC).
"We must do everything in our power to enable the ICC to bring to justice those responsible for war crimes," Malki said on Tuesday after meetings with the court's prosecutors, Reuters cited.
The minister's visit to The Hague-based court comes soon after the beginning of an Egypt-mediated truce between Israel and the Palestinian factions in the Gaza Strip on Tuesday morning. The 72-hour ceasefire was agreed amid mounting global pressure to end the bloody conflict.
Throughout the fighting, which has been continuing for nearly a month, Israel and Hamas have blamed each other for violating international law. The Palestinians accuse the Israeli Defense Force of targeting densely-populated areas resulting in a heavy civilian death toll, while the Israelis hit back saying Hamas was using its people as a human shield to protect fighters.
HRW: Israel targets fleeing Palestinian civilians
Palestine is going to seek formal membership of the ICC, which is required for the court to get jurisdiction over alleged crimes in the territories.
"Everything that has happened in the last 28 days is clear evidence of war crimes committed by Israel, amounting to crimes against humanity," Malki told reporters in The Hague. "There is no difficulty for us to show or build the case. Evidence is there ... Israel is in clear violation of international law," the minister added.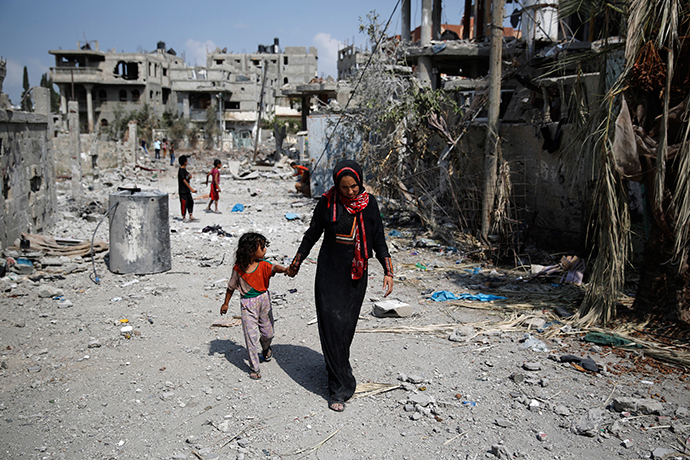 Israel, also not a member of the ICC, has declined to comment publicly on the matter. However, a senior official told Reuters that Israel would file a counter-suit against the Palestinians in response to any ICC legal action against Israel over the Gaza conflict.
Since neither of the conflicting sides are members of the ICC, the court would have no jurisdiction over Gaza unless this is granted in a UN Security Council resolution.
'Committing a war crime': HRW calls for Israel to stop shooting at Gaza civilians
In July, the United Nations launched an international inquiry into alleged human rights violations and crimes by Israel during its military offensive in Gaza.
The UN High Commissioner for Human Rights, Navi Pillay, said house demolitions and the killing of children raised the "strong possibility" that Israel was violating international law. She cited cases of Israeli air strikes and shelling hitting houses and hospitals in the coastal enclave: "These are just a few examples where there seems to be a strong possibility that international humanitarian law has been violated, in a manner that could amount to war crimes."
Israel may be guilty of war crimes – UN Human Rights Chief
By joining the ICC, the Palestinian territories would open themselves up to possible probes into crimes within their borders, as well as being able to grant jurisdiction to investigate crimes dating back to July 1, 2002.
"If it entails action committed by Palestinian groups (against Israelis) then we are ready to accept that," Malki said. "But nothing compares to the atrocities, the carnage, committed by Israel," the minister added.
In a statement to the UN Security Council, rights watchdog Amnesty International urged the Palestinian Authority and Israel to do everything within their power to enable the ICC to bring to justice those responsible for committing war crimes, and crimes against humanity in the current and past Israeli-Palestinian conflicts.
"An International Criminal Court investigation is crucial to end the pervasive culture of impunity. All sides must push for the Court to investigate such crimes in order to halt the vicious cycle of violations and injustice once and for all," Salil Shetty, the rights group head, said, as cited on Amnesty International's website.
"The UN Security Council must not stand by yet again and bear witness to mounting atrocities. It must seize this moment to act decisively for justice," Shetty added.
UN must urgently investigate war crimes in Israeli-Gaza conflict – Amnesty Intl
According to Gaza officials, the number of Palestinians killed in the offensive has exceeded 1,800 – the majority of the casualties are civilians. Israel has lost 64 soldiers and three civilians.