France's Hollande urges action on 'massacres' in Gaza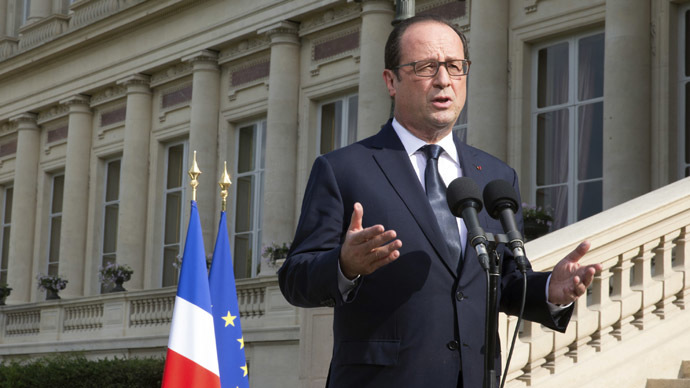 French President Francois Hollande has described Israel's killings in Gaza as "massacres" and called for action to end the violence. This comes a day after an IDF airstrike hit another UN-run school, leaving 10 civilians dead.
Israel launches ground incursion in Gaza Strip LIVE UPDATES
"When I see what is happening with the Christians in Iraq, the minorities in Syria, massacres every day. What is happening too in Gaza, massacres ... we have to act," AFP quoted Hollande as saying at a ceremony marking the 100th anniversary of the outbreak of World War I on Monday.
Earlier in the day, one of the strongest condemnations of Israel's tactics in Gaza came from French Foreign Minister Laurent Fabius, who said that security concerns do not justify "the slaughter of civilians."
As Fabius was making his remarks Monday on Sunday's attack, Israel destroyed a house in a Gaza City refugee camp, killing an eight-year-old girl and wounding 29 other people. This was immediately taken by the Palestinians as a violation of Monday's seven-hour ceasefire.
"How many more deaths will it take to stop what must be called the carnage in Gaza?" Fabius said in a statement, following the Sunday bombing of a UN-run school which claimed 10 lives, who sought shelter from the carnage outside, AFP reports.
"The tradition of friendship between Israel and France is an old one and Israel's right to security is total, but this right does not justify the killing of children and the slaughter of civilians," Fabius said.
The FM did not shy away from saying that Hamas "clearly carries an overwhelming responsibility" for the conflict, as the de factor rulers of Gaza, but he also quoted UN Secretary General Ban Ki-moon's words, in which he called Israel's shelling of the school a "criminal act."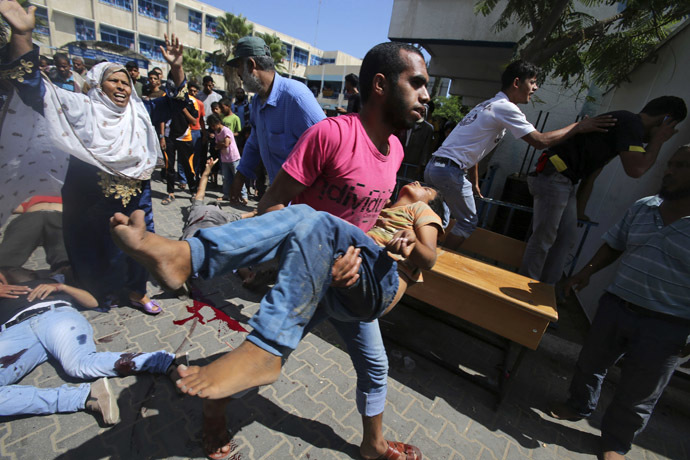 'Criminal act': Ban Ki-moon outraged over Israel's deadly strike on Gaza UN school
Fabius said France supported a ceasefire and pledged French commitment to the deal. "This is why we need a political solution, of which the components are known, and which I believe should be imposed by the international community, because the two parties – despite countless efforts – have unfortunately shown themselves incapable of completing talks," he said.
"Ceasefire, the imposition of a two-state solution and security for Israel – there is no other way," he said.
In a rare display of frustration, the US stopped just a bit short of directly condemning Israel for the deadly shelling of the Gaza school on Sunday, and urged Israel to "do more to meet its own standards" of avoiding civilian casualties.
'Appalled by disgraceful shelling': US urges Israel to 'meet standards', avoid civilian casualties
Meanwhile, Hamas, whose envoys were in Egypt brokering a truce, had said that Monday's ceasefire proposal was merely a media smokescreen, and that the airstrike on the camp was proof of that.
The rocket hit a house in the Shati camp, killing the eight-year-old girl just minutes after the ceasefire was supposed to begin. Israeli authorities are not confirming anything at this time, but say they are looking into the reports, Reuters says.
The ceasefire was announced for a period of seven hours, as was the previous one, to allow for the passage of humanitarian aid into affected areas and for the hundreds of thousands of Palestinians left homeless to escape the violence.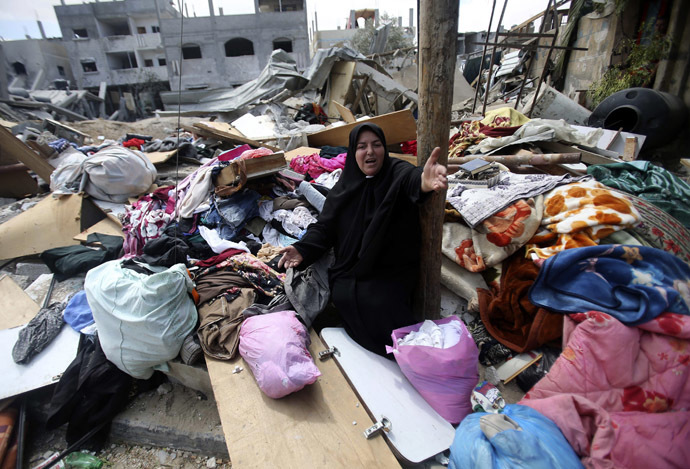 But shortly after the agreement, Hamas voiced suspicions, given the previous day's school shelling. The Israelis, for their part, promised that only the town of Rafah would be exempt from the pause, which was to last from 10am to 5pm (0700 to 1400 GMT). The IDF has been more active in that area following a Hamas ambush on Friday.
"If the truce is breached, the military will return fire during the declared duration of the truce," said Mark Regev, Prime Minister Benjamin Netanyahu's spokesman. But he did say that Israel wished to "assist with the humanitarian relief." He afterwards blamed Hamas for allegedly being the ones to reject this eighth ceasefire attempt.
Meanwhile, at least one Israeli citizen was killed Monday as a truck rammed into a bus in Jerusalem, Israeli media reported. Earlier, the police said that the driver of the truck was "neutralized," adding that the incident "looks like a terrorist attack."
At present, Israel plans to gradually decrease its operations in the current ground phase, as the main objective of destroying Hamas's underground tunnels connecting Gaza to Israel has nearly been accomplished. The Jewish state is now reportedly preparing for a continuation of operations. IDF Brigadier-General Motti Almoz told Army Radio: "There is no ending here, perhaps an interim phase."
The Palestinian death toll in the conflict has now topped 1,800.
You can share this story on social media: