HRW: Israel targets fleeing Palestinian civilians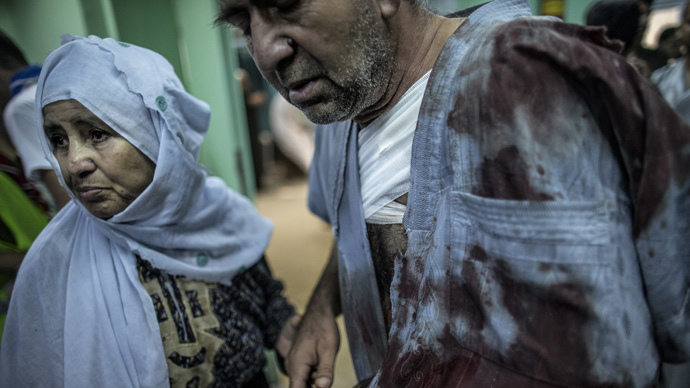 Human Rights Watch (HRW) slammed Israel in its latest report for targeting and killing Palestinian civilians who are seeking to flee the fighting, adding that IDF violated the laws of war.
Follow RT's LIVE UPDATES on Israel's offensive in Gaza
HRW cited several witness accounts who managed to get out of the southern Gaza town of Khuza'a between July 23 and July 25, who described Israeli forces targeting Palestinians civilian fleeing to Khan Younis seeking shelter or medical help.
"Israeli forces in the southern Gaza town of Khuza'a fired on and killed civilians in apparent violation of the laws of war in several incidents between July 23 and 25," HRW said in the report. "Deliberate attacks on civilians who are not participating in the fighting are war crimes."
Khuza'a, which has a population of around 10,000 people, became a hot target in Israel's ground offensive on July 23.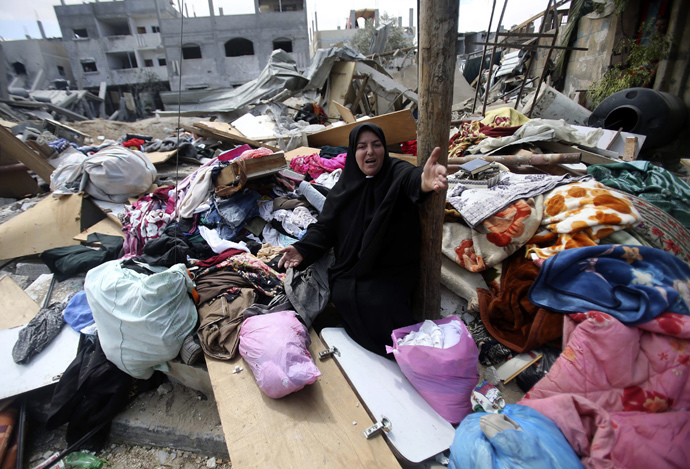 The report acknowledges that Israel warned civilians to leave the area before the offensive began, but argued that residents' choice to stay did not make them "lawful targets."
Gaza: Israeli Soldiers Shoot and Kill Fleeing Civilians http://t.co/becuOU1HW8

— Human Rights Watch (@hrw) August 4, 2014
"While the laws of war encourage 'advance, effective warnings' of attacks, the failure of civilians to abide by warnings does not make them lawful targets of attack – for obvious reasons, since many people do not flee because of infirmity, fear, lack of a place to go, or any number of other reasons," according to the report.
"Warning families to flee fighting doesn't make them fair targets just because they're unable to do so, and deliberately attacking them is a war crime," Middle East and North Africa director Sarah Leah Whitson said.
One instance on July 23 describes a man being critically injured as he was following Israeli orders and leaving a home that he was taking shelter. The man was walking out of the house with his hands in the air when he was shot in the jaw.
In another instance, Israeli soldiers targeted a group of men and children after they were released following questioning. Israeli forces shot at the group as they were making their way to Khan Younis, murdering one and injuring two others.
HRW notes that the civilians were not participating in the fighting.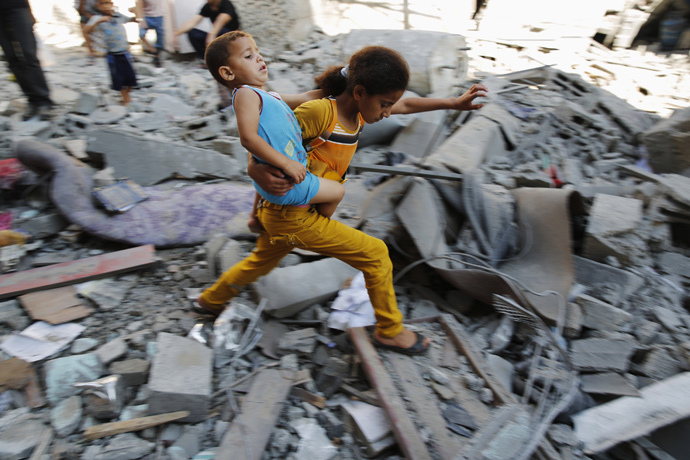 The group received reports from those it interviewed that up to several hundred people could be "trapped and unable to leave Khuza'a."
"When will there be justice for the civilians in Khuza'a, who suffered shelling for days, then faced deadly attacks by Israeli soldiers after being ordered to leave the town?" Whitson asked.
The report also highlights the difficulty medical staff have reaching the injured civilians safely, citing the International Committee of the Red Cross (ICRC) case from July 25. One of the organization's volunteers died after being critically wounded as he was trying to help civilians in Khuza'a.
"The horrors of war are bad enough for civilians even when all sides abide by the law," Whitson said. "But it's abhorrent that Israeli forces are making matters even worse by so blatantly violating the laws of war designed to spare civilians."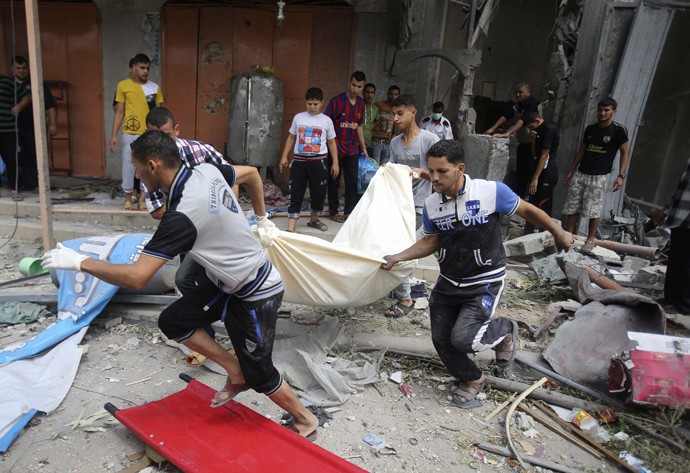 Meanwhile on Monday, UN Relief and Works Agency (UNRWA) condemned an Israeli missile strike near an UNRWA shelter in Rafah that killed nine people Sunday, including five children.
UNRWA also reported that according to preliminary investigations five of its emergency shelters have been targets of IDF air strikes. One of the shelters was hit twice.
The death toll in Gaza has hit over 1,800 since Israel launched its operation Protective Edge on July 8, while Israel has been under international pressure to deescalate the situation.
At the same time US President Barack Obama on Monday signed a bill pledging $225 million to Israel's Iron Dome missile defense system. The House passed the bill earlier on Friday night.
Read more: 'Here are the missiles!' US Congress passes emergency funding for Israel's Iron Dome
The money will be used to replenish Israel's defense system, which the Israeli Defense Forces say has been intercepting incoming rockets or mortars from Gaza with a 90 percent success rate.
In the latest attempt to cease the violence, Israel and the Palestinian factions have accepted a 72-hour ceasefire in Gaza starting Tuesday morning, according to diplomatic sources cited by Reuters.
You can share this story on social media: