Palestinians, Israel agree to 72-hr truce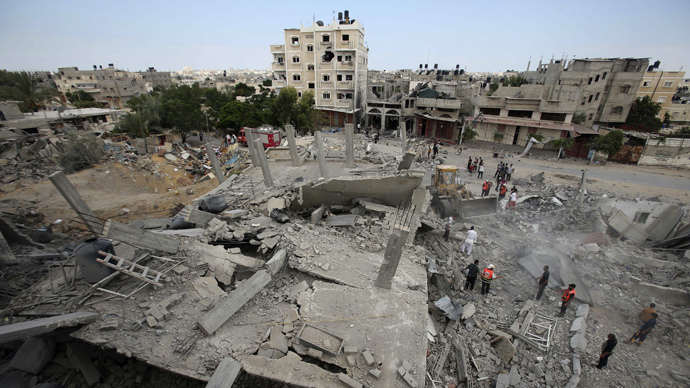 ​Israel and the Palestinian factions have accepted a Cairo-mediated 72-hour ceasefire in Gaza starting Tuesday morning, according to diplomatic sources on both sides of the conflict.
Follow RT's LIVE UPDATES on Israeli offensive in Gaza
All Israeli ground forces are to withdraw from Gaza before 05:00 GMT, according to military spokesman Lieutenant-Colonel Peter Lerner.

"The Israeli Defense Forces will be redeployed in defensive positions outside the Gaza Strip and we will maintain those defensive positions," Lerner told reporters.

The withdrawal of troops is to signal a start to an Egyptian-mediated three-day ceasefire.
"Egypt has received very strong indicators on the acceptance by all parties of a 72-hour ceasefire starting at 5 a.m. GMT," one Egyptian source said.

"More delegations are due to arrive in Cairo soon to engage in the Egyptian initiative, which is mainly aimed at an immediate halt to the bloodshed through a comprehensive truce agreement."
"We hope this will secure a permanent ceasefire and restore stability," Egypt's Foreing Ministry said said in a statement.
Hamas has announced it has agreed to the Egyptian proposal of a 72-hour truce, according to the group's spokesman, Sami Abu Zuhri, cited by Reuters.
The Times of Israel meanwhile cited a senior Palestinian delegation source as saying the offer for a 72-hour truce has been accepted, and that Israel "has agreed to the offer in principal." The Palestinian delegation to Cairo includes representatives of Fatah, Hamas, Islamic Jihad and other factions.
An Israeli official, speaking on condition of anonymity, has also confirmed the agreement to Reuters.
"We agree to begin implementing the Egyptian initiative. If the ceasefire is upheld there will be no need for any presence of [Israeli] forces in the Gaza Strip," the official said.
UN Secretary-General Ban Ki-moon called on Israelis and Palestinians to observe the 72-hour ceasefire on Tuesday and to exercise maximum restraint. Ban welcomed the ceasefire in Gaza starting Tuesday morning. Earlier, the UN said it will use the temporary ceasefire to restock supplies at schools and other shelters for about 270,000 displaced Palestinians.
The current truce talks are the latest of several failed attempts to stop what has been the bloodiest Israeli-Palestinian fighting in two years. Some 1,834 Palestinians have perished in Israeli strikes and in fighting, most of them civilians, Gaza officials have said. Israel says 64 of its soldiers and three civilians have been killed since July 8, when the military operation started on the grounds of surge in cross-border rocket salvos from Gaza.
You can share this story on social media: