'Committing a war crime': HRW calls for Israel to stop shooting at Gaza civilians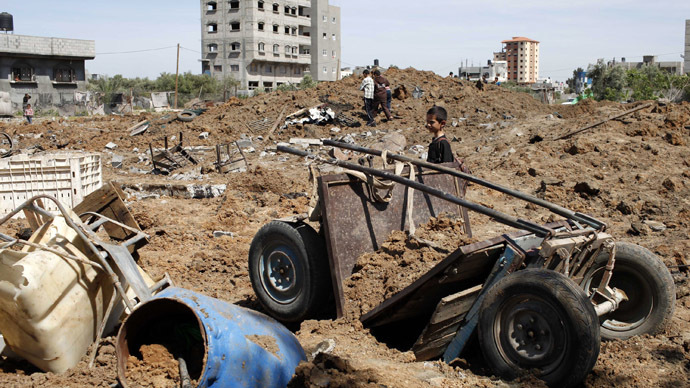 Human Rights Watch has called for Israel's militia to stop shooting at Palestine civilians in Gaza, citing the shooting of civilians including a disabled woman and a high school student having a picnic.
There have been 4 deaths and some 60 injuries since the beginning of this year based on UN statistics

"Month after month, Israeli forces have wounded and killed unarmed Palestinians who did nothing but cross an invisible, shifting line that Israel has drawn inside Gaza's perimeter," said Sarah Leah Whitson, Middle East director at Human Rights Watch in a statement published on the organization's website.

"It's appalling that soldiers have shot men, women, and children apparently for simply crossing a line," Whitson said.

The US-based human rights group conducted research into seven separate incidents between the New Year and March 1 during which Israeli troops unleashed gunfire in the vicinity of the fence. Among the dead were a high school student was killed while picnicking and an intellectually disabled woman who had lost her way.

The five who have been wounded over the course of the incidents included two journalists and two protesters who had been planting olive trees.

While some young people had been throwing stones during a protest, the wounded had not been in the vicinity, according to the HRW sources.

None of the casualties had been posing an apparent threat to either soldiers or other human beings and the Israeli military has not tried to explain the attacks by claiming any victims were engaged in military operations or that armed forces were in the area when the shootings took place, according to HRW.

The group states that the attacks, "in violation of international humanitarian law (or the laws of war) which prohibits attacks on civilians, Israeli soldiers have repeatedly shot at civilians near the fence on the Palestinian side," adding that the rules state attacks can only be carried out against military personnel in the form of enemy combatants. If there is any doubt as to the identity it is stated that attacks must be cancelled.

"Military personnel who willfully kill civilians are committing a war crime," said the HRW statement.

Previous concerns have been aired over Israel's activities. Between 2005 and 2013, the Palestinian Centre for Human Rights (PCHR) made more than 20 complaints to Israel's military requesting that criminal investigations be opened into killings near Gaza's land boundary. However, the military never opened any investigations in response to the complaints.

"Shooting at civilians is not a lawful policy near Gaza's perimeter fence or anywhere else," Whitson said.

"Israeli commanders need to change their policies and practices to abide by international law, not flaunt it," she added.

At the end of February, Amnesty International released a report slamming Israeli killings of dozens of Palestinian civilians, including children. The report, entitled: "Trigger-happy: Israel's use of excessive force in the West Bank" said that some of the killings were unnecessary and willful, which may qualify them as war crimes.

A total of 22 Palestinians have been killed in the West Bank over the last year, at least 14 of them during rallies. Most of those murdered were young adults under 25, and at least four were children. Among those killed are peaceful protesters, civilian bystanders, human rights activists and journalists, Amnesty reported.