'Bomb Gaza' app pulled by Google after public outcry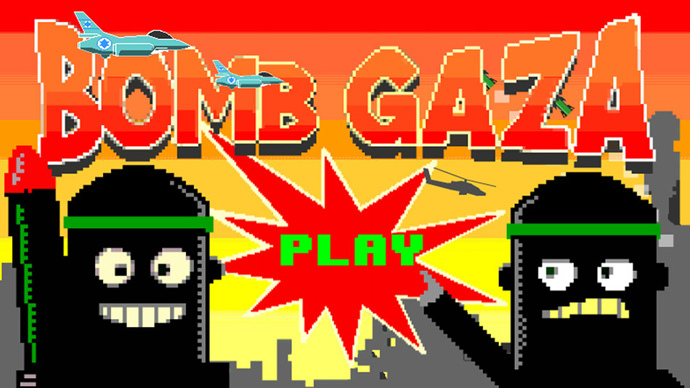 The Israeli/Palestinian conflict has seeped into our app stores, as Google recently removed two different Android games from its online marketplace for putting players in charge of bombing Gaza.
Both of the titles have been blasted on social media for turning the violent Middle Eastern conflict – one in which more than 1,800 Palestinians and more than 60 Israelis have been killed – into a game.
The first game in question is simply called "Bomb Gaza," and was uploaded to the Google Play store on July 29, according to The Independent. In less than a week, the app was downloaded over 1,000 times before being removed on Monday. Though it's no longer available, screenshots show that the game's instructed players to drop bombs on Gaza in order to hit militants, but to try and avoid striking civilians and children at the same time. When civilians were killed and the game's "rage meter" went too high, the game ended.
As reported by Fox News, when people started getting wind of the game's existence, its Google Play page was covered in critical comments and calls for the its removal began getting louder.
"Please take this off the [P]lay store," one user wrote, as quoted by Fox. "It is offensive and I am really let down that Google actually allowed this. If this game isn't removed, I'm starting a Google boycott."
"This is disgusting," another commenter stated. " … Cannot believe Android let this game in the market, absolutely disgusted!"
Seriously Google how can you accept this? Is there no sympathy for innocent victims? http://t.co/qjxlAdD6nm@google#Gaza

— Ricky Ghai (@ShoutMumbai) August 4, 2014
Another game called "Gaza Assault: Code Red," meanwhile, was also removed on Monday after being on the market since July 17. As in "Bomb Gaza," Mashable reports that this game asked players to use bombs to destroy terrorist cells by striking buildings and other facilities, although in this case civilians are nowhere to be seen. A screenshot of the game reads, "Finish the fight … and bring peace to the region!"
Following outrage on social media and elsewhere, a Google spokesperson said the company does not comment on specific apps, but that it "remove[s] apps from Google Play that violate our policies." According to Mashable, the two games were officially taken down on Monday.
While Google did not detail which policies the games would be in violation of, a look at their developer guidelines shows that the company does not allow "hate speech" or "violence and bullying" on its store:
- Violence and Bullying: Depictions of gratuitous violence are not allowed. Apps should not contain materials that threaten, harass or bully other users.
- Hate Speech: We don't allow content advocating against groups of people based on their race or ethnic origin, religion, disability, gender, age, veteran status, or sexual orientation/gender identity.
Disgusting - screenshot of "Bomb Gaza", the Android game via @MazMHussainpic.twitter.com/yqMaLnybH4

— Mohamed Madi (@m_madi) August 4, 2014
As noted by the Daily Dot, however, these aren't the only two games on Google Play featuring the ongoing conflict in Gaza. There are at least three games based on the Iron Dome missile defense system. One of them asks players to tap away as many missiles as possible before they hit a city, while another tells players to "destroy any incoming foreigners missiles or terrorists."
Gaza isn't the only target of these games, though. One game called "Rocket Pride" has players take control of Palestinian "resistance missiles" in order to guide them through the Iron Dome's defenses and hit various targets.
While "Bomb Gaza" and "Gaza Assault" have been taken down, the rest of these games are still available to download now.
You can share this story on social media: