Major American and European airlines suspend flights to and from Israel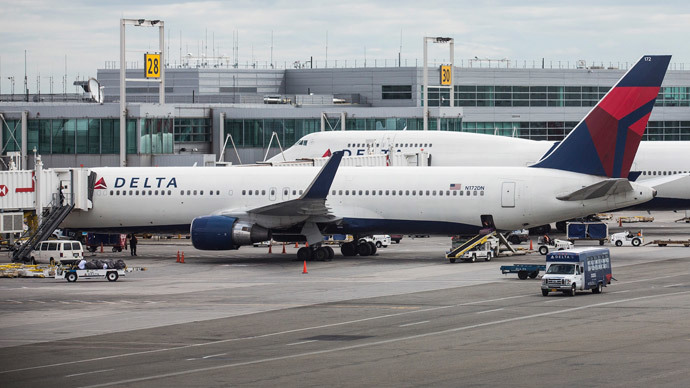 A number of major US and European airlines are immediately suspending flights to and from Israel after a rocket attack near Ben-Gurion International Airport. US Airways, Lufthansa and Delta are some of the companies grounding their planes.
The decision was taken following a warning from the Federal Aviation Authority (FAA), after a rocket fell in the city of Yehud, which is just five kilometers from the airport, Haaretz reported.
The FFA has ordered US airlines not to fly to or from Ben Gurion Airport "for a period of up to 24 hours." Meanwhile, their European counterparts, the European Air Safety Agency (EASA) says it has issued a 'strong recommendation' to avoid Tel Aviv airport until further notice.
A Delta Boeing 747 from New York was flying over the Mediterranean Sea heading for Tel Aviv on Tuesday when it turned around and flew to Paris instead. Flight 468 had 273 passengers and 17 crew on board.
.@Delta suspends TLV operations until further notice http://t.co/ErvGQgY2Se

— Delta Air Lines News (@DeltaNewsroom) July 22, 2014
The Russian airline Transaero also decided to turn back a flight that was bound for Tel Aviv. Flight number 311 was en-route to the Israeli city but instead headed back to Moscow. A spokesman for the company said that Wednesday's flights to Israel have also been cancelled.
US Airways, which has one daily flight from Philadelphia, canceled that flight Tuesday and the return trip from Tel Aviv. It has relocated planes, which are currently at Ben-Gurion airport, according to Haaretz.
Delta Air Lines DL 468 from New York to Tel Aviv diverts to Paris after Delta decided to cancel all Tel Aviv flights pic.twitter.com/9pehQU0Iup

— Flightradar24 (@flightradar24) July 22, 2014
United Airlines has also decided to suspend flights after initially saying they would continue, according to Reuters.
Following the decision by their American colleagues, a number of European airlines decided to follow suit, with Germany's largest carrier, Lufthansa suspending services for 36 hours, while KLM and Air France also halted flights to Tel Aviv.
"We have cancelled our flight to Tel Aviv as a precaution because we can't secure passengers' safety," said KLM spokeswoman Joyce Veekman. "We'll review the situation every day."
Nevertheless, the FFA has not issued any warnings regarding flights over the Gaza region, despite the current conflict, the White House said on Tuesday.
"As it relates to the airspace in Gaza ... the FAA has not issued any notices related to the ongoing violence in that region of the world," White House spokesman Josh Earnest told reporters.
"This does serve to illustrate, though, that its individual carriers who make the decisions about their flight plans and whether or not to alter specific routes based on hostilities on the ground," he said.
Airlines and passengers are growing more anxious about safety since last week, when a Malaysia Airlines jet was downed over Ukraine, killing all 298 people on board.
Clashes between Israel and Palestine are now into their third week on Tuesday and the death toll continues to increase. The Gaza Health Ministry says the number of Palestinians killed has risen to 609.
Follow RT's LIVE UPDATES on Israeli offensive against Gaza
Earlier on Tuesday, Israeli Prime Minister Benjamin Netanyahu has held a joint press conference with United Nations Secretary General Ban Ki-moon. The UN chief said too many Israeli and Palestinian mothers are "burying their children" and urges both sides to "stop fighting and start talking." He also added that he urges "Israel to show maximum restraint."
In response, Netanyahu responded by comparing Hamas to Islamist extremist groups such as Isis, Hezbollah and Boko Haram. "In the face of such terror, Israel has no option but to defend itself... We will do what we have to do to defend ourselves."
You can share this story on social media: