Armband or even a medal? What Netherlands' most passionate fan got from the captain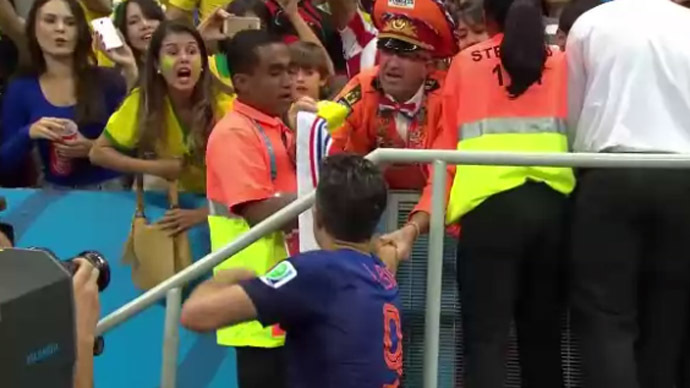 In a most touching episode from the World Cup, Netherlands' Robin van Persie paid tribute to the most loyal and also most noticeable of the team's fans, dubbed the Orange General, by giving him his captain's armband and, possibly, more...
Robin van Persie, a Manchester United striker and captain of the Netherlands's team at the FIFA World Cup 2014, scored the first of the three goals in Saturday's match with Brazil, which secured the Dutch their bronze in the tournament.
Shortly after receiving his medal from Fifa's president Sepp Blatter, van Persie was himself ready for bestowing honors. A video circulating online shows the player coming up to the fan stand and passing his yellow captain's armband to the most conspicuous person there – man dressed in a kind of orange military uniform.
Although it cannot be actually seen in this video, some media outlets reported on the fan's getting not just an armband, but also van Persie's bronze medal.

Whatever the gift was, the recipient appears to have surely deserved it, as he is said to have attended almost all the games of the country's team for more than the last 20 years.
The fan is a celebrity at home in the Netherlands. His name is Winfried Witjes, but he is most commonly known as the Orange General for his eccentric outfit in the Dutch team colors.
"Orange General" - Been to every single holland game since 1988, Van Persie gave him his bronze medal last night... pic.twitter.com/FEHiASdpfi

— baidaaaa (@ObaidaMomo) July 13, 2014
There was actually a campaign in the Netherlands to raise money for the Orange General's ticket to Brazil, as the clothing store, where the man works as manager, went bankrupt, and he could not afford the trip.

"Since 1988, I have missed very few matches," he told De Telegraaf. "I have no wife or children. Orange is my everything."

The online audience, who actively shared the video of the gift giving moment, vigorously applauded Van Persie's gesture.
Van Persie gave his captain band to the Dutch captain that's always at the games!! #RESPECT that's soo awesome pic.twitter.com/Wq8gRXfq1F

— Andy⚽ (@ItsOnlyMeAndy) July 12, 2014
Class act! Robin van Persie gives his captain's armband to this dedicated Dutch fan. | pic.twitter.com/DZ8kW4EFLu

— 2014 World Cup (@2014WorIdCup) July 12, 2014