Same old, same old: New Ukraine prosecutor wants Maidan activists dispersed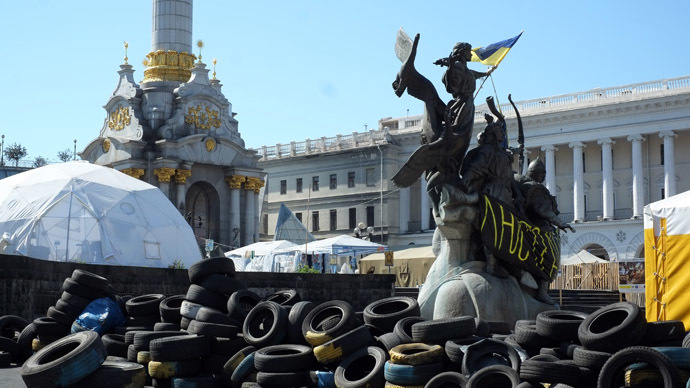 Hundreds of activists on Kiev's Maidan must leave and free seized buildings, Ukraine's prosecutor general has said. He urged law enforcers to intervene and did not rule out forceful eviction from Independence Square, if activists show resistance.
Security forces will be authorized to take measures if activists do not leave the city center "today, tomorrow or in the near future," Vitaly Yarema, the prosecutor general, said at a briefing on Wednesday.
"I am appealing to the interior minister and the head of the [Ukrainian Security Service] SBU to take urgent measures. I demand that captured buildings be immediately vacated," Yarema said. He added that in case those demands are not met, "criminal responsibility will follow" as the seizing of buildings is a crime.
"They want to turn the symbol of the revolution into a caricature," he added.
Kiev's Independence Square was the main protester hotspots where pro-EU activists have been demonstrating since November 21, 2013. While the majority of activists left, there are up to 1,000 people still on Maidan, according to Kiev's newly-elected mayor, Vitaly Klitschko.
The prosecutor general said that law-enforcement bodies should take measures to restore order in the capital's central districts as crime there was getting worse.
There are 19 buildings, including administrative offices and hotels, which remain under the protesters' control. According to Yarema's information, nearly 500 activists are living in the seized offices.
"Instead of protecting the country, defending its independence in the East or working for the country's benefit, imposters are engaged in direct extortion and banditry," he said.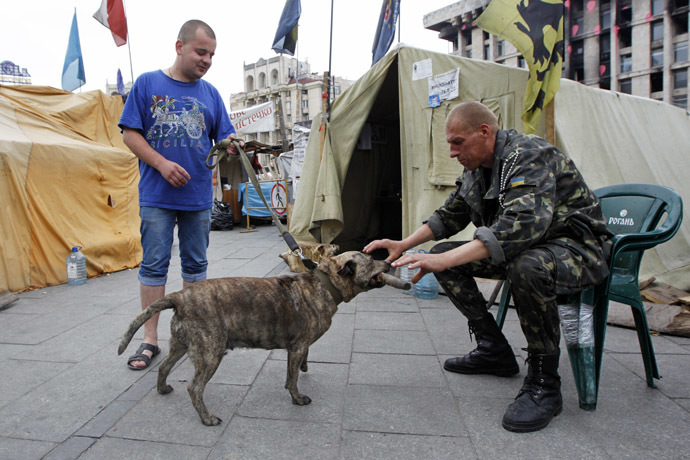 On Wednesday, it was reported that over 60 pieces of art worth $185,000 had gone missing from the Ukrainian Museum of National History, which is in the Ukrainian house, international exhibition and convention center. This building is currently in the control of the activists
When asked about the possibility of using force while evicting the so-called euromaidan encampment, Yarema replied: "The option of force is possible. If there is armed resistance, police officers have the right to use their weapons."
At the same time, he assured journalists that "there will be no confrontation" and people would only be detained if they offer resistance to police.
Responding to the prosecutor general's demands, Vitaly Klitschko said the use of force is "an extreme" measure, which he had never considered.
"The forcible dispersal of Maidan, I am sure, can only be an extreme step. I do not consider this and never have. I am sure that we need to communicate so that people leave," he said.
Klitschko agreed that activists should leave so at least traffic could be restored along the city's main Khreschatyk Street.
He stressed that he has been receiving "a large number" complaints filed by Kiev residents because the "blockade of the main artery of the center of Kiev, Khreschatyk, is paralyzing the work of the entire city."
Moreover, gunshots and explosions can be heard coming from the encampment from time to time.
Kiev's authorities have suggested that Maidan activists leave the city's main square and move to some location outside Kiev. However, this proposal was rejected.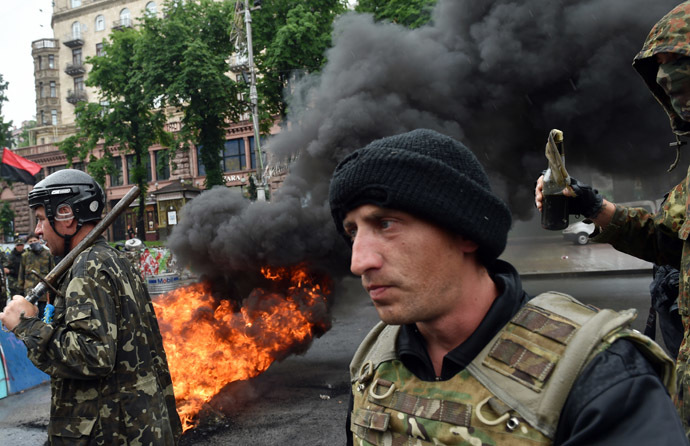 Klitschko said that a joint decision on "eviction of Maidan" will be taken in the coming weeks.
Elected Kiev's mayor back in May, Klitschko has so far failed to reach any agreement with activists occupying Maidan.
One of Klitschko first public statements after securing his post was a call for them to leave.
"The key goal of the Maidan – ousting the dictator – has been reached, so the barricades should be dismantled," he said back in May.
However, Klitschko's call provoked mass protests as activists criticized Klitshchko for not taking into account their opinion on whether Maidan should be dismantled or not.
They threatened to start "a third Maidan" (following the 2004 protest during the "orange revolution" and the second one in November 2013-February 2014), unless the order to dismantle the barricades in the Ukrainian capital is rescinded.
That was when Vitaly Klitschko quickly changed his rhetoric, saying that Maidan should itself determine its future.