​Back to burning: Maidan activists set tires on fire to protest eviction (VIDEO)
Nauseous black smoke from burning tires is back in Central Kiev. A group of Maidan activists set them on fire in a gesture of protest against an order from Kiev's elected Mayor Vladimir Klitshchko's to remove the barricades.
The protest is more a symbolic reminder of the scale that anti-government protest reached four months ago. Some 30 angry activists ignited several tires with a Molotov cocktail and wouldn't allow a fire crew to out the flames out.
They threatened to start "a third Maidan" (following the 2004 protest during the "orange revolution" and the second one in November 2013-February 2014), unless the order to dismantle the barricades in the Ukrainian capital is rescinded.
В Киеве сформировалась добрая традиция - жечь покрышки в День города . #украина #майдан #евромайданpic.twitter.com/nGipygwAOx

— Смирнофф (@smirnof3gs) May 31, 2014
Klitshchko, one of the three prime political leaders of the second Maidan, was elected the new mayor of Kiev on Sunday, on the same day that Ukrainians voted for their new president. One of his first public statements after securing office was a call to Maidan activists still residing in the city center to leave.
"The key goal of the Maidan – ousting the dictator – has been reached, so the barricades should be dismantled," he said.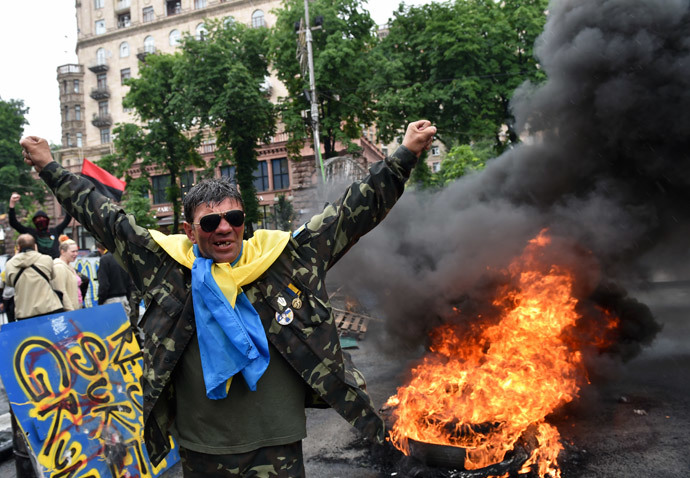 Similar statements came from the elected president, Petro Poroshenko.
"No Maidans would affect the president, no matter how much anyone would want it. Otherwise Maidan would no longer be the will of the people and would turn into a common spin technique. I know how to deal with such techniques," he said.
МАЙДАН. ВЕРСИЯ 3.0 pic.twitter.com/zKOrKz4dgY

— Нефритовый заяц (@zavvp) May 31, 2014
The calls however were not heeded at Maidan, where some activists criticized Klitshchko for not taking into account their opinion on whether Maidan should be dismantled or not.
But as the calls to dismantle barricades were met with renewed violence, Vitaly Klitschko was quick to change his rhetoric. The then stated that Maidan should itself determine its future.
"I fought at Maidan since the first day. We did not [allow the] Maidan eviction then and we won't today either, despite provocations. We understand that the country and the capital should return to peaceful life and start the reforms people demand," Klitschko said, as quoted by his party's press service.
You can share this story on social media: