House arrest: Israeli court refuses to jail brutally beaten 15yo Palestinian-American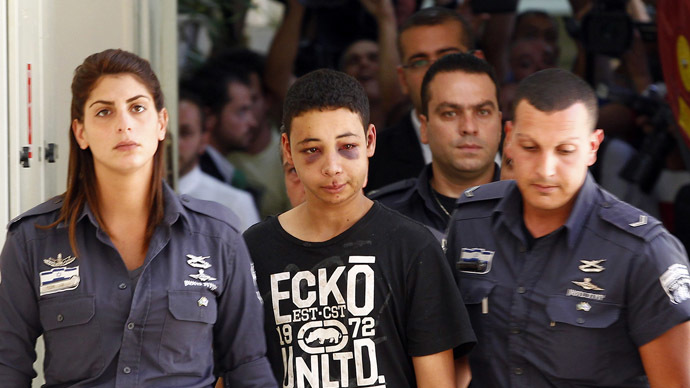 The brutally beaten, 15-year-old US-Palestinian cousin of murdered teen Mohammad Abu Khdeir has been placed under house arrest, despite police demands to keep him in custody. Tarek Abu Khdeir was accused of attacking police officers at a protest.
An Israeli court ruled that Tarek Abu Khdeir should be subject to house arrest in the east Jerusalem neighborhood of Beit Hanina on Sunday. Court spokeswoman Luba Samri said that police had asked the judge to extend the remand of the teenager, claiming that he attacked police officers during violent protests over the death of his cousin, 16-year-old Palestinian boy Mohammad Abu Khdeir.
Tariq Abu Khdeir is being released now, says US official. Conditional, will be under sort of house arrest until family departure on 16th.

— Alexander Marquardt (@MarquardtA) July 6, 2014
Tarek's parents maintained his innocence and claim Israeli police officers committed an unprovoked attack on their son while he was handcuffed. On Saturday a video, showing how two officers violently beat Abu Khdeir while he was lying on the floor, appeared on local television, provoking outrage and condemnation on social media.
Parents of US citizen Tariq Abu Khdeir arrive in court, speak to lawyer as police ask to extend their son's custody pic.twitter.com/NTEQhSGXTl

— Nick Schifrin (@nickschifrin) July 6, 2014
Following the uproar, the US government released a statement expressing deep concern over the incident.
US 'profoundly troubled' by brutal beating of Palestine teen who turned out to be American
"We can confirm that Tarek Khdeir, an American citizen, is being held by Israeli authorities in Jerusalem. [Tarek Abu Khdeir] was visited by an official from the US Consulate General in Jerusalem today," US State Department spokeswoman Jen Psaki said in a statement, adding that the US was profoundly troubled by the reports.
Tariq also said he's still in a bit of pain in his face, he was knocked out. Said he was just watching clashes.

— Alexander Marquardt (@MarquardtA) July 6, 2014
Members of the Israeli police force claim the video was "edited and tendentious" and was not an accurate reflection of events. They say Tarek was detained during the arrest of six other masked men, some of whom were armed with knives. The police are conducting an inquiry into the incident.
Caught on camera: Israeli police beating 15yo cousin of murdered Palestinian teen (VIDEO)
Tensions have been building over the past week in the area after the abduction and murder of Mohammad Abu Khdeir who was found dead in the woods on Wednesday. Israeli officials suspect Jewish nationalists may have committed the crime as a reprisal for the kidnapping and murders of three Israeli teenagers on June 12. The Israeli authorities have arrested six people in connection with Mohammad's murder, Israeli newspaper Haaretz reported Sunday.
Mohammad Abu Khdeir's death sparked fury in Palestinian neighborhoods with violent protests erupting in East Jerusalem. The Arab teen was buried on Friday after it was revealed in an autopsy that he had been burned to death by his captors.
His funeral drew thousands of mourners, but quickly descended into a full-blown rally with participants turning their anger on police, burning tires and throwing stones. Israeli police deployed stun grenades and tear gas to bring the crowds under control.
Kidnapped and slain Arab teen was burned alive – autopsy results
Prime Minister Benjamin Netanyahu has condemned the death of Mohammad Abu Khdeir and said he would act calmly and responsibly in the light of growing Israeli-Palestinian hostilities.
You can share this story on social media: