IDF wishes Palestinians 'Ramadan Kareem' with anti-Hamas lollipop drop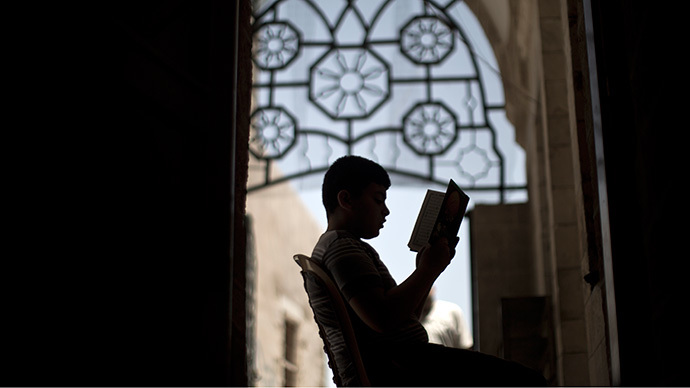 As Muslims mark the start of Ramadan, Israel dropped hundreds of holiday lollipops with anti-Hamas messages in two of the largest cities in West Bank. It's part of another attempt to discourage the population's support for the movement.
People noticed the lollipops on Sunday in the cities of Nablus and Ramallah with the message "Happy Ramadan: a bit of sweetness after Hamas made life bitter in the West Bank," Ma'an news agency says.

The reported cited eyewitnesses seeing Israeli soldiers throwing the lollipops on the streets.

This move follows a separate attempt on Thursday when Israeli forces dropped matchboxes on the streets of Nablus with the message: "Beware! Hamas is inflaming the West Bank."
#Israel hands out candy for #Ramadan in #WestBank warning of #Hamas - there're better ways 2 win over hearts & minds! pic.twitter.com/XnxFUZc39b

— Andreas Krieg (@andreas_krieg) June 29, 2014
In 2008-2009 Israel used similar psychological warfare tactics during Operation Cast Lead in Gaza, when the Israeli Defense Forces dropped hundreds of pamphlets with a message against Hamas reading, "Your death is near; you have no chance against the IDF's special units and its weapons. Your leaders have fled and abandoned you alone in the field."

A political science professor at Bir Zeit University, Sameeh Hammoudah, told the Times of Israel that these kinds of methods may backfire.

"This is nonsense; it will bring no benefit to Israel … On the contrary, it will cause a reaction of sympathy toward Hamas. Palestinians are angry with Israeli policies and will side with those who stand against Israel," Hammoudah said.

Israel has arrested scores of Palestinians during the last few weeks in its search for three missing Jewish teenagers. Israeli government accused the Palestinian movement Hamas of being behind the abductions, but Hamas denies the allegations.
Israele per #Ramadan distribuisce caramelle con frasi contro #Hamas ma fa brutta figura in #arabo: testo incorretto pic.twitter.com/mrZ2D9OEkb

— michele giorgio (@michelegiorgio2) June 29, 2014
You can share this story on social media: