​Dozens feared killed as Islamist militants attack several churches in Nigeria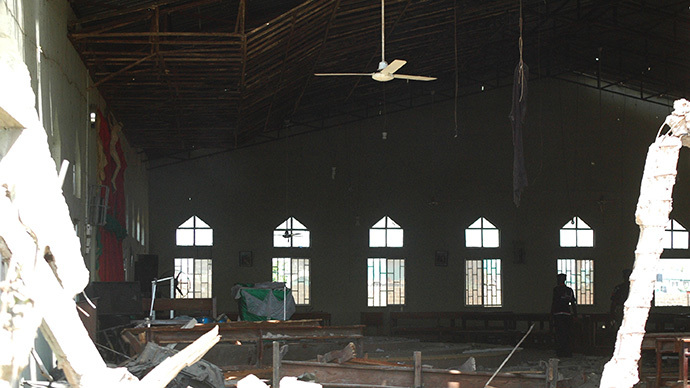 Militants suspected to be Boko Haram Islamists reportedly burnt down several Nigerian churches and killed dozens of locals near Chibok – the town where they earlier kidnapped over 200 schoolgirls who still remain captive.
Witnesses say the militants fired at worshippers – killing dozens of men, women, and children – and burnt down churches in northeastern Nigeria on Sunday.
There has so far been no official confirmation of the events, and a death toll report has not been released.
Nigerian online newspaper DailyPost said about 100 people were feared to be killed in an insurgent attack.
"They killed and burnt houses after attacking worshippers in five churches in Kwada; after that, they advanced to Kautikari, less than 8 kilometers to Chibok town, where they equally killed people and destroyed properties. I'm not sure security agencies have gone to rescue the villagers, but I learnt that the insurgents are still in pursuit of the remaining villagers," survivor Mallam Yahi told DailyPost.
AP reported that at least 30 bodies had been recovered but more were turning up in the bushes, where people tried to escape from Kwada village, according to a member of a vigilante group.
"The attackers went to churches with bombs and guns," Chibok resident Timothy James told the Guardian over the phone. "From what I gathered, dozens of worshippers, including men, women and children were killed," he added, explaining that his information had come from people who fled the affected area.
"We cannot tell the number of dead bodies. I was told the attackers burnt at least three churches to the ground," Enoch Mark, a Chibok leader since the April kidnappings, told AFP in Lagos.
According to witnesses, among the destroyed buildings was a church that was started by American missionaries from the US state of Illinois in the 1920s.
Residents who suffered in the attack blamed the authorities for the lack of help. People said soldiers were slow to respond to news of the attack and refused to confront the extremists directly, only shooting at them from a distance outside the village, AP reported.
The agency added that although their reporters were able to make cell phone calls to the area, a police spokesman said he could not confirm the attack, blaming bad communication with a local security post.
Nigeria has been increasingly suffering from violence in its northeastern territories. The situation in the region worsened in April, when more than 200 schoolgirls were kidnapped by Boko Haram militants from Chibok. The group stated their intent to sell the children "in the market" if their demands for the release of detained fighters were not met.
Despite wide international support, including social media campaigns, no efforts to free the teenagers have so far succeeded.
Boko Haram extremists want to enforce an Islamic state in Nigeria. The country's population, totaling 170 million people, is almost equally divided between Muslim and Christian believers. Hundreds have been killed in Boko Haram attacks this year.
You can share this story on social media: