Hundreds killed in Boko Haram attack in Nigeria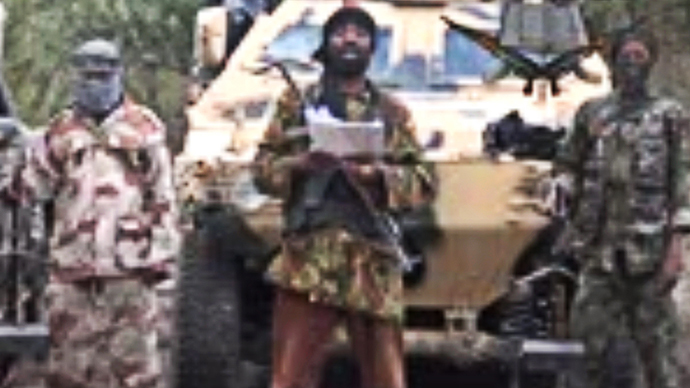 At least 300 people were killed in a northeastern Nigerian town on the Cameroon border in the latest attack by Islamist militant group Boko Haram, AFP reports, citing a local senator and witnesses.
The attack on Gamboru Ngala took place Monday night, but the official death toll was first reported Wednesday in the national newspaper The Daily Trust, which put it at 200 people and counting.
Area senator Ahmed Zanna now tells AFP that "the death toll from the attack is around 300" and "property has been razed." Residents say over one hundred bodies have been collected so far and that this not the final toll yet.
"Since morning, our people have been conducting funerals for the dead and up to 8pm (last night) they are not done yet. There's no family that is not affected in Gamboru," federal lawmaker from the area, Abdulrahman Terab, told The Daily Trust.
The militants had entered the village of Gamboru in armored vehicles, on motorcycles, and with pick-up trucks.
"The attackers stormed the communities in the night when residents were still sleeping, setting ablaze houses and shooting residents who tried to escape from the fire,'" Senator Ahmed Zannah said in a BBC Hausa report Tuesday.
Among the dead were some 16 policemen.
Boko Haram means "Western education is forbidden" and the group, which wants to establish an Islamic state in Nigeria, frequently stages attacks.
The sect has been growing bolder in recent months. More than 200 schoolgirls were kidnapped by the group three weeks ago, with the leader threatening to sell them into slavery. A $300,000 cash reward has since been offered by the police for their recovery.
The kidnapping occurred the same day as an explosion which killed 75 people on the outskirts of the capital Abuja – the first on the city in some two years. So far this year, the group has been responsible for some 1,500 deaths.
The US and UK have both stated their intent to help find the kidnapped girls. The US his sending experts to Abuja while Britian has stated that it is ready to go further and dispatch military troops in the form of special forces and intelligence gathering aircraft.