Nigeria's Boko Haram militants say abducted schoolgirls will be 'sold in the market'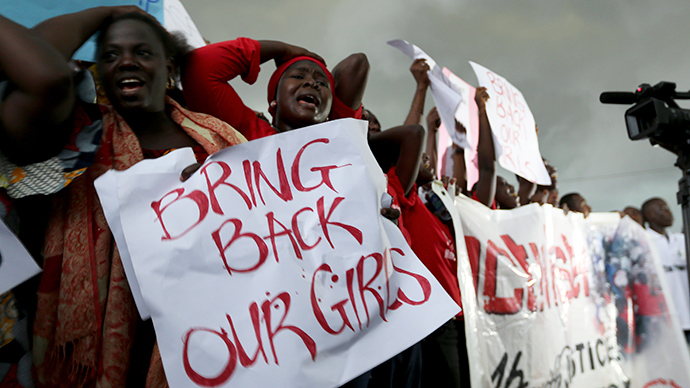 Islamist militant group Boko Haram has claimed full responsibility for the kidnapping of more than 200 schoolgirls which took place last month. The group stated their intent to sell the children "in the market."
"I abducted your girls," the militants' leader Abubakar Shekau stated in a video obtained by the AFP news agency. "I will sell them in the market, by Allah," he added.
The 223 schoolgirls were kidnapped by the militant sect during a raid on Chibok, a village in northeastern Nigeria on April 14. Boko Haram is seeking to establish a sharia state, with the name translating as 'Western education is sinful.'
The group is renowned for its deliberate targeting of schools and churches – in this case the Government Girls Secondary School in the village.
Boko Haram then took the girls to a remote border area in trucks. The apparent inability of the country's authorities to track down the girls and punish the kidnappers has caused both national and international outrage.
Shekau stated in the video that the abduction had ignited international outrage "because we are holding people [as] slaves."
On Sunday, the leader of a protest movement calling on the officials to do 'more' to recover the girls was arrested. In a subsequent discussion with the media, President Goodluck Jonathan pledged that while he had no idea of the whereabouts of the girls, they would be released.
The students were from a variety of schools in the region and had been temporarily relocated to Chibok to sit their final exams on account of Boko Haram violence elsewhere in the country.
Two-hundred-and-seventy-six in total were seized. However, some 53 of the children were able to escape the ordeal. "We have documented all the 53 girls that escaped," Borno state police commissioner, Lawan Tanko, told AFP on Friday.
The sect has been growing bolder in recent month and the kidnapping occurred the same day as an explosion which killed 75 people on the outskirts of the capital Abuja – the first on the city in some two years. So far this year, the group has been responsible for some 1,500 deaths.
You can share this story on social media: