Syria handed over 100% of declared chem weapons stockpile - watchdog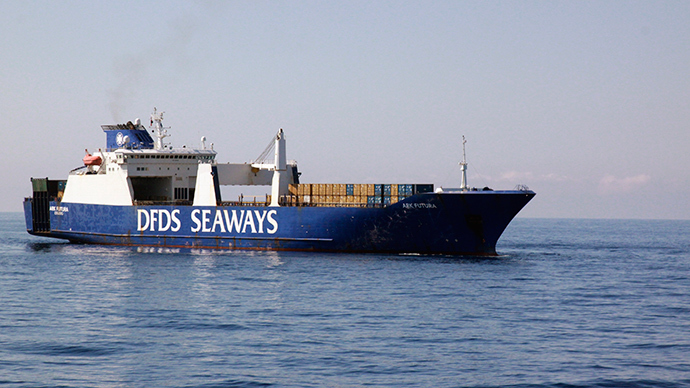 The last of Syria's declared chemical weapons have been handed over. "All declared chemical weapons have left Syria," OPCW Director General Ahmet Üzümcü told reporters at a press conference Monday.
"The last of the remaining chemicals identified for removal from Syria were loaded this afternoon aboard the Danish ship Ark Futura. The ship made its last call at the port of Latakia in what has been a long and patient campaign in support of this international endeavor," Üzümcü announced.
The destruction of the most hazardous substances will take place in Mediterranean international waters, on the American ship 'Cape Ray.'
Less hazardous substances will be destroyed in specialized facilities in Finland and the US.
Syria had 100 tonnes of toxic material remaining in the country, which had been approximately 8 percent of an initial 1,300 tonnes reported to OPCW. On April 27 it was announced that over 92% of Syrian chemical stockpile had been removed. The complete weapons destruction deadline was set for June 30.
Another OPCW visit will take place soon to Damascus to fully confirm the information and an investigation into alleged use of chlorine will be ongoing after the last shipment.

"This may take a little more time, but clearly we want to conclude it as soon as possible," Üzümcü said when questioned over the confirmation of information. He added that another team will be sent to "verify claims of remaining assets."
He added that he could not say for certain that Syria possesses no chemical weapons whatsoever anymore but added he would avoid "speculation."
Disposal may take a little longer. The official said OPCW was hoping that removal would have finished taking place earlier, "but there have been delays."
"It may take 3-4 more months, but I can't give an exact time frame," Üzümcü said.

The removal of chemical agents from Syria began in early January, following an agreement brokered by Russia, in which Syria renounced its chemical weapons arsenal and joined the convention on Prohibition of the Development, Production, Stockpiling and Use of Chemical Weapons.

The removal of toxic material out of the country involves transporting them to the port of Latakia, where they are shipped out using commercial vessels provided by the international community.
You can share this story on social media: