Sarin used in two Syria chemical attacks point to military stockpiles - UN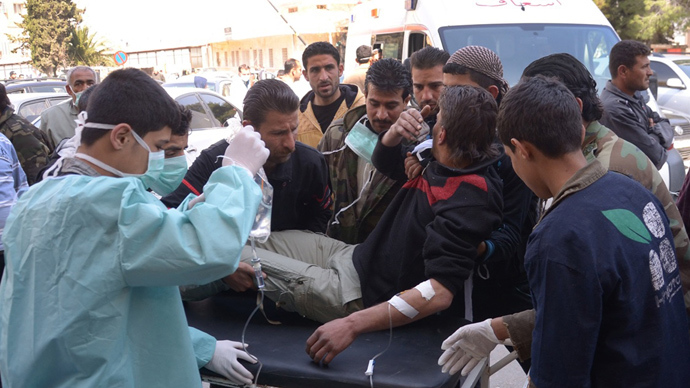 Two incidents where chemical weapons were used in Syria last year appear to have come from Syrian army stockpiles, United Nations investigators said on Wednesday in a new report that goes beyond previous conclusions.
The team of experts led by Paulo Pinheiro concluded that sarin – a deadly nerve agent – was used in total in three incidents: in the Damascus suburb of Al-Ghouta on August 21, in Khan al-Assal near Aleppo on March 19, and in Saraqeb near the northern town of Idlib in April 2013, Reuters reported.

"The evidence available concerning the nature, quality and quantity of the agents used on 21 August indicated that the perpetrators likely had access to the chemical weapons stockpile of the Syrian military, as well as the expertise and equipment necessary to manipulate safely large amount of chemical agents," the UN investigators said in the report.

They also concluded that the attack in Khan al-Assal in March used the same chemical agents and bore exactly the same hallmarks as the Al-Ghouta attack in August.

But Pinheiro's report did not give any reliable casualty figures from the attacks and was only able to determine "that at least several hundred people were affected."

Ake Sellstrom, who was in charge of the inspection team that was on the ground in Syria, concluded in an earlier report in December that while chemical weapons had most likely been used in five out of seven alleged attacks, the team did not assign any blame.

Both the Syrian government and the opposition have blamed each other for the attacks, which they have also both denied.

The Al-Ghouta attack was the world's deadliest in 25 years and provoked threats of retaliatory military attacks by the US. Under a diplomatic initiative suggested and largely brokered by the Russians, Syrian President Bashar Assad agreed to help the international community to destroy his chemical weapons arsenal.

On Tuesday, the Organisation for the Prohibition of Chemical Weapons (OPCW) – the global chemical weapons watchdog – said that Syria has so far managed to ship out about one-third of its stockpile, including mustard gas, for destruction abroad or on vessels in international waters.

The Pinheiro team has been investigating up to 20 incidents where chemical weapons have allegedly been used. He said they were building on Sellstrom's findings while also trying to dig deeper.

Pinheiro told a news conference on Thursday that his team had interviewed a wide group of people, including doctors, victims, defectors, and journalists.

"We made other investigations [to Sellstrom] in terms of interviews of experts, interviews with functionaries involved. We conducted our own investigation including specialized expertise and of course we have been in close contact with the members of this Sellstrom mission," he said.

Selltsrom's December report visited only seven sites and cited poor security conditions as the primary reason.
You can share this story on social media: