'Iraq may become a country of widows & orphans': Refugees in Iraqi Kurdistan afraid for their future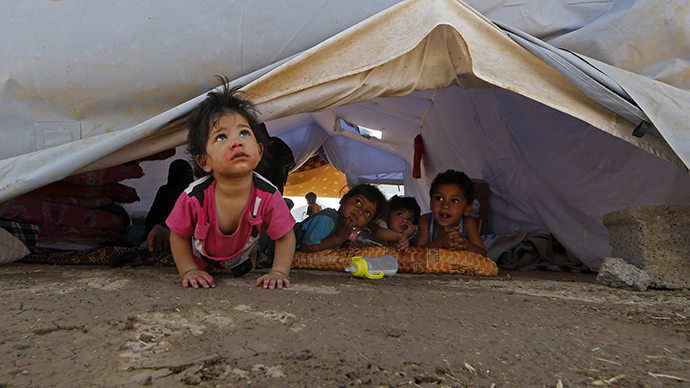 Despite ISIS militants tightening their grip on Iraq, seizing more and more cities, people in Kurdistan believe they will survive the crisis, even with a shortage of fuel. But the refugees think that the situation in the country will become worse.
ISIS militants seize 4 Iraqi towns in just 2 days
Al-Qaeda offshoot in Iraq offensive LIVE UPDATES
The city of Erbil, the capital of Iraq's semi-autonomous Kurdistan Region, is located only 60 kilometers from the frontline of Islamic State in Iraq and the Levant (ISIS, or ISIL), but it still remains relatively untouched by the militants. Businesses are still prospering in the region, partially due to high inflow of refugees who come from all parts of the crisis-torn country.
Local residents say they don't believe the jihadists would dare march on them, RT's Lucy Kafanov reports.
"I have full faith in the forces. They won't let anything happen," a local barber told RT.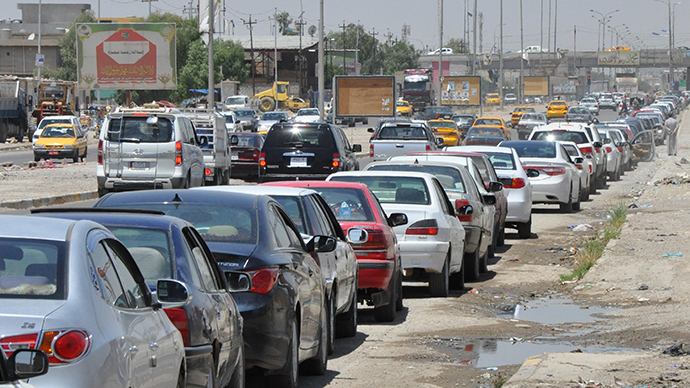 Some Kurdish residents are sure that their region will survive in the crisis.
"It may be that Iraq will have to be divided. We will have our area and the Sunnis and Shias will have theirs. No one in Kurdistan is worried. We have oil and we have a strong army," a Kurdish resident told RT.
To get around the 30 liter gas limit, Iraqis empty their newly-filled tanks and head back to queue at pump for more pic.twitter.com/dEhTml3WE5

— Lucy Kafanov (@LucyKafanov) June 23, 2014
The resident was referring to Erbil Refinery, located 40 kilometers from the city. It is composed of three production lines for crude oil refining and the production and storage and distribution and supply of petroleum products as per applied standards.
Though the city has oil, they are running scarce of fuel as for days Iraqi forces are currently fighting with ISIS militants for control of the country's largest oil refinery in the country's second-largest city of Mosul.
According to Kafanov, residents fear they may run out of gas supplies.
"So this is one of the first things you notice here in Erbil," says Lucy, pointing at massive gas lines along the road.
Some of the cars have been in the area for hours since the morning and many of them camped overnight so they can get in line to get gas, Kafanov says.
The residents have to line up to get their share as the local authorities have limited each customer to 30 liters, or less than what it takes to fill two tanks.
Some people were seen emptying their newly-purchased supply into containers to go back for more, Kafanov says, adding that she was witnessing an unusual situation in which Kurdish police officers guarding the gas stations in the city just to prevent fights and conflict.
Another day, another gas queue in northern Iraq. Last night we saw drivers sleeping on the road to keep place in line pic.twitter.com/Wc3bR5iy3m

— Lucy Kafanov (@LucyKafanov) June 23, 2014
All you need to know about ISIS and what is happening in Iraq
People told Kafanov that they don't know what the future will bring, and fear it is going to get a lot worse before it gets better.
Local residents say there haven't been lines like these for fuel since the outbreak of the US-led invasion back in 2003.
Fahdel Ghazi Jebur, a Shia refugee who arrived from Baghdad several days ago, says that in the Iraqi capital the situation "has gone from bad to worse."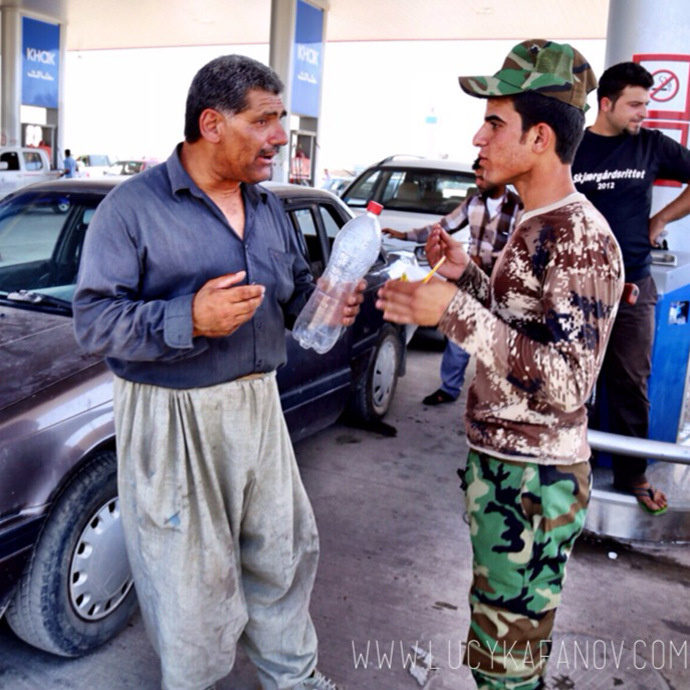 "People are arming themselves and getting ready to fight one another," he says. "All I see in the future is bloodshed and violence. If something doesn't change, Iraq will be a country of orphans and widows."
In the meantime, a man who fled the Sunni-dominated Anbar province, told RT that It's not ISIS he was afraid of, but retribution from the Shiite-dominated army.
"We left Fallujah [city in the Anbar province] because were scared of shelling from the Iraqi army," Abdul Rahman Taha, a Sunni refugee from Fallujah, told RT.
Radical Sunni militants from the Al-Qaeda offshoot, the Islamic State in Iraq and the Levant (ISIS, or ISIL) are advancing and capturing cities in northern Iraq. The jihadists have declared the capture of the capital, Baghdad, as their top priority objective.
You can share this story on social media: